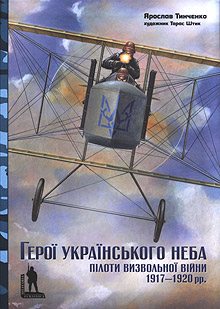 "A new study by Yaroslav Tynchenko dedicated to the Ukrainian aviation of the 1917-1920 Liberation War and the aviators. The book includes many photos published for the first time, as well as high-quality pictures of reconstructed planes that were used by the Ukrainian Army in 1917-1920."
Popular Science.
In Ukrainian.
Type of the edition: paperback
Format: 168x240 mm
Number of pages: 200, illustrations
Publisher: Tempora, Kyiv
Contents:
1. Peredmova
2. Pershi aviatsiyni chastyny Tsentral'noji Rady
3. Ukrajins'ka aviatsija u 1918 r.
4. Povitrjanyy flot Dyrektoriji UNR, kinets' 1918 – lito 1919 rr.
5. Povitrjanyy mist iz Jevropoju ta dolja aviatsiji Dyrektoriji UNR, lito-osin' 1919 r.
6. 1-a Zaporiz'ka aviatsiyna eskadryl'ja, 1920-1921 rr.
7. Letuns'kyy viddil Halyts'koji armiji
8. Povitroplavni chastyny
9. Posylannja
Dodatky:
10. Biohrafichnyy dovidnyk ukrajins'kykh aviatoriv
11. Pol's'ki suprotyvnyky ukrajins'kykh l'otchykiv
12. Komandnyy ta osobovyy sklad Povitrjanoho flotu 1918 r.
13. Typy litakiv ta jikh stan u skladi dyvizioniv inspektsiji Kharkivs'koho rayonu u veresni 1918 r.
14. Spys starshyn 1-ho povitroplavnoho dyvizionu
15. Iljustratsiji