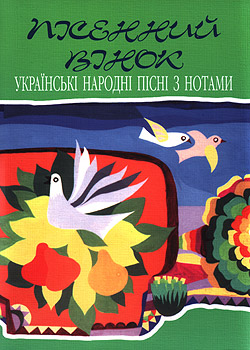 "Song Wreath" – because the songs in this book are interlinked as if flowers in a wreath, with the natural diversity of the spring, summer and autumn of human life. All colors and tints of heart-felt experience: joy and sorrow, memories and dreams, disappointments and hopes, merry jokes and heroic impulses, the tragic and the ironical often sound on adjoining pages.
"Song Wreath" includes the key, best, most melodious notation records and song lyrics, which in modern popular collections often appear in different interpretations.
This unique gift edition of Ukrainian folk songs compiled and published by the honoured builder of Ukraine Mykhalko Andriy Yakovich is dedicated not only to his children and grandchildren, to the whole family and the numerous generations of Mykhalko's family but also to the native people of Ukraine who take care of their song treasure and to those ones who are joined together with the spirit of Love, Beauty and Truth being united by undestructed and invincible Ukrainian folk song. The songs are placed according to the alphabet. This edition contains basic and the most melodious song note records."
In Ukrainian.
Offset paper, format 70/ő100/16.
Number of pages: 688, illustrations, notes. Singing book.
Binding: hard + dust-cover
Publisher: "Krynytsia", Kyiv
Table of contents:
- Taras Shevchenko i narodna ukrajins'ka pisnja
- Mykola Hohol' pro ukrajins'ki narodni pisni
ZASPIV
- Bozhe Velykyy, Jedynyy (Molytva za Ukrajinu) Slova O. Konys'koho. Muzyka M. Lysenka
- Shche ne vmerla Ukrajiny ni slava, ni volja Slova P. Chubyns'koho. Muzyka M. Verbyts'koho
- Oy u luzi chervona kalyna. Slova i muz. S. Charnets'koho
- Za Ukrajinu. Slova M. Voronoho
- Ljubit' Ukrajinu. Slova V. Sosjury
- Zazhurylas' Ukrajina
- Rozlylysja kruti berezhechky
- Pochajivs'ka Maty Bozha
- Myre lukavyy
- A Boh Adama stvoryv rukama
- Skazhu vam, dochky i syny. Slova A. Demydenka. Muzyka O. Morozova
- Ukrajina. Slova i muzyka T. Petrynenka
- Moja Ukrajina. Slova M. Tkacha. Muzyka I. Poklada
- Ja tobi nalezhu, Ukrajino! Slova M. Lukiva. Muzyka A. Andrijevs'koji
- Jak Dnipro povik z Ukrajinoju (Ukrajino – svit). Slova V. Herasymova, muzyka L. Popernats'koho
- Pisnja pro vchytel'ku. Slova A. Malyshka. Muzyka P. Mayborody
- Ridna shkola. Slova T. Maydanovych. Muzyka L. Levchenko (Butukhanovoji)
- De zhoda je v simeystvi. Slova I. Kotljarevs'koho, muzyka M. Lysenka
- Hey, tam na hori Sich ide H. Tryl'ovs'koho
- Volju! (A nad Maydanom). Slova V. Kovtuna, muzyka V. Hamery
- Hey, vydno selo. Slova i muzyka  L. Lepkoho
- Hey, vy stril'tsi sichoviji
- Zacharovana Desna. Slova D. Lutsenka, muzyka I. Shamo
PISNI NA SLOVA TARASA ShEVChENKA
- Banduryste, orle syzyy
- Bulo kolys' na Vkrajini
- Viter z hajem rozmovljaje (varianty 1,2)
- Vse yde, vse mynaje
- Hey, lita orel (Lita orel). Muzyka K. Stetsenka
- Homonila Ukrajina
- Dyvljusja, azh svitaje
- Dumy moji, dumy moji
- Dumy moji, dumy moji. Obrobka melodiji V. Verykivs'koho
- Jest' na sviti dolja (varianty 1,2)
- Za bayrakom bayrak
- Za dumoju duma (Mykoli Hoholju)
- Zashchebetav zhayvoronok
- Za shcho mene, jak rosla ja (Lileja)
- Zore moja vechirnjaja
- I bahata ja
- Iz-za haju sontse skhodyt'
- Kokhaytesja, chornobryvi
- Mynajut' dni, mynajut' nochi
- Navhorodi kolo brodu
- Nad Dniprovoju sahoju
- Nashcho meni zhenytysja
- Nashcho meni chorni brovy
- Ne zhenysja na bahatiy
- Oy maju, maju ja ochenjata
- Oy odna ja, odna
- Oy try shljakhy shyrokiji. Muzyka Ja. Stepovoho
- Oy choho ty pochornilo
- Orysja ty, moja nyvo
- Perebendja staryy, slipyy
- Plavay, plavay, lebedon'ko (varianty 1,2)
- Po dibrovi viter vyje
- Ponad polem ide
- Proshchay, svite, proshchay, zemle (varianty 1,2)
- Reve ta stohne Dnipr shyrokyy
- Sadok vyshnevyy kolo khaty (varianty 1,2)
- Svite tykhyy, kraju mylyy (1,2)
- Sydyt' kobzar na rozputti
- Sontse hrije, viter vije (varianty 1,2)
- Sumno, sumno sered neba
- Taka jiji dolja
- Teche voda v synje more
- Teche voda z-pid javora
- Tjazhko, vazhko v sviti zhyty
- U haju, haju vitru nemaje
- Uchitesja, braty moji
- Jakby meni cherevychky
- Jak maju ja zhurytysja
- Jak umru, to pokhovayte (Zapovit). Muzyka H. Hladkoho
OY ZATsVILA KALYNA NAD KRYNYTsEJu...
- A vzhe vesna
- A vzhe vesna vesnyt'sja
- A vzhe tretiy vechir
- A v poli bereza, a v poli kudrjava
- A do mene Jakiv prykhodyv
- A shche sontse ne zakhodylo
- A l'on tsvite. Slova V. Jukhymovycha, muzyka i. Sl'oty
- A ja v bat'ka rosla
- Babusju, ridnen'ka
- Bat'kove sertse. Slova D. Lutsenka. Muzyka A. Pashkevycha
- Bat'ko dobryy, bat'ko dobryy
- Bezmezhneje pole v snizhnomu zavoju. Slova I. Franka, muzyka M. Lysenka
- Berizka. Slova S. Kryzhanivs'koho. Muzyka S. Kozaka
- Byla zhinka muzhyka (varianty 1,2)
- Bili kashtany. Slova A. Malyshka, muzyka P. Mayborody
- Byla mene maty
- Boday sja kohut znudyv
- Bolyt' moja holovon'ka (variant 1,2)
- Buv sobi harnyy khlopets' (variant 2: Sluzhyv kozak u viys'ku)
- Verbovaja doshchechka
- Verkhovyno, maty moja. Slova y muzyka M. Mashkina
- Vesna, vesnjanka
- Vechir nadvori
- Vechirnja elehija. Slova M. Lukiva, muzyka O. Beylina
- Vechirnja pisnja. Slova V. Samiylenka. Muzyka K. Stetsenka
- Vechorije i temnije. Slova Ja. Shchoholiva (narodnyy variant)
- Vzjav by ja banduru. Slova M. Petrenka
- Vydno shljakhy poltavs'kiji
- Vyydy, vyydy, Ivanku!
- Vyydu na pole
- Vyyshly v pole kosari
- Vylitaly orly z-za krutoji hory
- Vyrostesh ty, synu. Slova V. Symonenka. Muzyka P. Mayborody (variant 2: muzyka A. Pashkevycha)
- Vyrjadzhala maty syna
- Vysyt' jabko, vysyt'
- Vyshyvanka. Slova M. Soma. Muzyka O. Sandlera
- Vyshni, chereshni rozvyvajut'sja
- Vivtsi moji, vivtsi
- Viter, viter kolo khaty
- Viter z polja, khvylja z morja
- Vijut' vitry, vijut' buyni. Slova I. Kotljarevs'koho
- V kintsi hrebli shumljat' verby
- V sadu huljala
- V subotu piznen'ko
- Vsjakomu horodu nrav i prava. Slova H. Skovorody. Lit. obr. I. Kotljarevs'koho
- Vtish mene: zaneduzhala ja. Slova P. Hrabovs'koho (narodnyy variant)
- V charakh kokhannja moje divuvannja. Slova K. Bilylovs'koho
- Haju, haju, zelen rozmaju
- Handzja (Chy je v sviti molodytsja). Slova i muzyka D. Bonkovs'koho
- Hey, huk, maty, huk
- Hey, kolys' bula rozkish-volja
- Hey, ljudy jidut' po lishchynu
- Hey, nute, khloptsi
- Hey, u lisi, v lisi
- Het'te, dumy, vy khmary osinni. Slova Lesi Ukrajinky
- Hylja, hylja, siri husy
- Hlyboka kyrnytsja, hlyboko kopana
- Holovochka zh moja bidna
- Homin, homin, homin po dibrovi
- Horila sosna, palala
- Hryts' mene, moja maty
- Hrytsju, Hrytsju, do roboty! Obr. M. Leontovycha
- Hude viter vel'my v poli. Slova V. Zabily. Muzyka M. Hlinky
- Hutsulka Ksenja. Slova i muzyka Ja. Barnycha
- Day, Bozhe, radosti. Slova A. Demydenka, muzyka H. Tatarchenka
- Dvi Mariji. Slova T. Maydanovych, muzyka L. Levchenko (Butukhanovoji)
- Dva kol'ory. Slova D. Pavlychka. Muzyka O. Bilasha
- De b jane jikhala, de b ja ne yshla
- De zh my budem nochuvaty
- Des' tut bula podoljanochka
- De syniji hory (Karpaty). Slova D. Lutsenka. Muzyka I. Shamo
- Des' tut bula podoljanochka
- De ty brodysh, moja dole. Slova S. Pysarevs'koho
- Dyvljus' ja na nebo. Slova M. Petrenka. Muzyka L. Aleksandrovoji
- Divka v sinjakh stojala
- Divchyno kokhana, zdorova bula!
- Divchyna moja, perejaslavko
- Divchyna moja, charivnychen'ko
- Divchynon'ka po hryby khodyla
- Divchyno-rybchyno, zdorova bula!
- Didu, didu, idy po kalynu
- Dobryvechir, divchyno, kudy ydesh?
- Dobryy vechir, susidon'ko
- Dobryy vechir tobi, zelena dibrovo
- Doshchyk, doshchyk
- Dushi krynytsja. Slova A. Demydenka, muzyka O. Morozova
- Doshchyk nakrapaje
- Zhali moji, zhali
- Zhenchychok-brenchychok
- Zhyto, mamtsju
- Zhovta zhorzhyna. Slova T. Maydanovych, muzyka L. Levchenko (Butukhanovoji)
- Zabud' mene. Slova V. Pachovs'koho
- Za horodom kachky plyvut'
- Zadzvonyly dzvony
- Zahray my, tsyhane staryy. Slova i muzyka I. (S.) Vorobkevycha (narodnyy variant)
- Zazhurylys' halychanky. Slova i muzyka R. Kupchyns'koho
- Zakuvala zozulen'ka v sinjakh na pomosti
- Zakuvala zozulen'ka na stodoli na rozi
- Za nashov stodoloju
- Za richkoju, za Dunajem
- Zaporoz'kyy pysarju. Slova A. Demydenka, muzyka O. Moroza
- Zasvit vstaly kozachen'ky
- Za toboju. Slova B. Oliynyka, muzyka A. Andrijevs'koji
- Zaspivaymo pisnju veselen'ku
- Za tumanom nichoho ne vydno
- Zashumila lishchynon'ka
- Zhday mene. Slova V. Brovchenka, muzyka S. Kozaka
- Zeleneje zhyto, zelene
- Zeleneje zhyto, zelene
- Zelenaja lishchynon'ko
- Zelenaja ta lishchynon'ka
- Zelenen'kyy barvinochku
- Zelenyy hay, pakhuche pole. Slova P. Hrabovs'koho
- Zelenyy dubochok
- Zibralysja vsi burlaky
- Ivanku, Ivanku, z toho boku jarku
- I v vas, i v nas khay bude harazd (Pobazhannja na proshchannja). Slova V. Lahody
- Ishla baba po hrybochky
- Ishlo divcha luchkamy
- Ishov kozak dorohoju
- Ishov kozak potaykom
- I shumyt', i hude
- Ishche sontse ne zakhodylo
- Jikhav, jikhav kozak mistom
- Jikhav kozak za Dunay. Slova i melodija S. Klymovs'koho
- Jikhav kozak na viynon'ku (Jikhav strilets' na viynon'ku) Slova R. Kupchyns'koho. Muzyka M. Hayvorons'koho
- Jikhaly kozaky iz Donu dodomu
- Jikhav chumak iz Krymu dodomu
- Yshly korovy iz dibrovy
- Kazav meni bat'ko
- Kalynove sertse (Kalyna chervona). Slova T. Maydanovych. Muzyka L. Levchenko (Butukhanovoji)
- Kalyno-malyno, choho v luzi stojish
- Kyjeve miy. Slova D. Lutsenka. Muzyka I. Shamo
- Kyjivs'kyy val's. Slova A. Malyshka. Muzyka P. Mayborody
- Kynu kuzhil' na polytsju
- Kozaka nesut'
- Kozak od'jizhdzhaje
- Koly b meni stupka ta zhorna
- Koly na krylakh nochi. Slova O. Olesja
- Koly pojizd u dal' zahurkoche. Slova V. Sosjury
- Koly rozluchajut'sja dvoje. Slova M. Slavins'koho, muzyka M. Lysenka
- Kolys', divchyna myla. Slova i muzyka L. Lepkoho
- Kolo mlyna, kolo brodu
- Kopav, kopav krynychen'ku
- Kotylasja jasna zorja z neba
- Kokhav mene bat'ko
- Kokhana. Slova I. Barakha. Muzyka I. Poklada
- Kulyk chayku ljubyv
- Lastivka. Slova M. Tkacha. Muzyka O. Bilasha
- Letyt' halka cherez balku
- Letiv ptashok ponad vodu
- Letila zozulja
- Letjat', niby chayky. Slova L. Revy. Muzyka Ju. Rozhavs'koji
- Letila kulja cherez horu
- Luhom idu, konja vedu
- Mav ja raz divchynon'ku
- Mala maty odnu dochku
- Maky chervoni. Slova V. Herasymova. Muzyka O. Zlotnyka
- Mamyna vyshnja. Slova D. Lutsenka. Muzyka A. Pashkevycha
- Marichka. Slova M. Tkacha. Muzyka S. Sabodasha
- Melodija (Spohad). Slova B. Oliynyka, muzyka O. Bilasha
- Maty sijala son. Slova B. Oliynyka. Muzyka V. Tylyka
- My pidem, de travy pokhyli. Slova A. Malyshka. Muzyka P. Mayborody
- Mizh horamy a v dolyni
- Misjats' i ziron'ky
- Misjats' na nebi, ziron'ky sjajut'
- Misjatsju jasnyy. Slova i muzyka S. Hulaka-Artemovs'koho
- Moja stezhyna. Slova A. Malyshka. Muzyka P. Mayborody
- Mrija (Bez vitru ne rodyt' zhyto). Slova M. Soma, muzyka O. Sandlera
- Na bilim sviti shchastja je. Slova V. Herasymova, muzyka L. Popernats'koho
- Na vulytsi skrypka hraje
- Na horodi burkun
- Na horodi verba rjasna
- Na horodi sino
- Nad mojeju khatynoju
- Nadobranich usim na nich
- Na dolyni tuman. Slova V. Didenka. Muzyka B. Bujevs'koho
- Naysvjatishe na sviti Slova V. Lihostova, muzyka O. Bilasha
- Na kameni nohy myju
- Naletily zhuravli
- Na potochku-m prala
- Na chuzhyni tjazhko zhyty
- Nezhasna trojanda. Slova T. Maydanovych, muzyka L. Levchenko (variant 1); V. Bahmuta, M. Kovalenka (variant 2)
- Ne zhenysja, synu, bo zle tobi bude
- Ne pytay, choho v mene zaplakani ochi
- Nese Halja vodu
- Ne topyla, ne varyla
- Ne chuduytes', dobri ljudy
- Ne shchebechy, soloveyko. Slova V. Zabily. Muzyka M. Hlinky
- Ni, mamo, ne mozhna neljuba ljubyt'. Slova Je. Hrebinky
- Nich jaka, Hospody, misjachna, zorjana (Vyklyk). Slova M. Staryts'koho
- Oda muzytsi. Slova B. Oliynyka, muzyka A. Andrijevs'koji
- Od Kyjeva do Luben
- Odna hora vysokaja
- Oy a v horodi
- Odnijeji doli dva kryla. Slova V. Kovtuna, muzyka M. Kaland'onka
- Oy vazhu ja, vazhu
- Oy verbo, verbo
- Oy vyydu ja na dolynu
- Oy vyysja, khmelju
- Oy vyorju nyvku shyrokuju
- Oy v poli, v poli vyshnja stojala
- Oy hay, maty, hay
- Oy hay, maty
- Oy haju, miy haju
- Oy hylja-hylja, huson'ky, na stav
- Oy hlybokyy kolodjazju, zolotiji kljuchi
- Oy dzhygune, dzhygune
- Oy hore tiy chaytsi. Slova I. Mazepy (variant 1,2)
- Oy divchyna-horlytsja
- Oy, divchyno, shumyt' hay
- Oy za hajem, hajem
- Oy zaydy, zaydy
- Oy zatsvila rozha kray vikna
- Oy zatsvila chervona kalyna
- Oy z-za hory
- Oy z-za hory kam'janoji
- Oy ziydy, ziydy, ty ziron'ko vechirnjaja
- Oy ziydy, ziydy, jasen misjatsju
- Oy znaty, znaty
- Oy iz-za hory ta buynyy viter vije
- Oy kazala meni maty. Slova i muzyka S. Hulaka-Artemovs'koho
- Oy koly b toy vechir
- Oy konju miy, konju
- Oy kum do kumy zalytsjavsja
- Oy kuplju ja dachu. Slova A. Demydenka, muzyka O. Morozova
- Oy letila horlytsja
- Oy lopnuv obruch
- Oy ljubyv ta kokhav
- Oy, Marichko, chychyry
- Oy maju ja chorni brovy
- Oy miy bat'ko hirkyy
- Oy miy mylyy varenykiv khoche
- Oy misjatsju, misjachen'ku
- Oy misjatsju-misjachen'ku, ne svity nikomu
- Oy Moroze, Morozenku
- Oy na hori bilyy kamin'
- Oy na hori vohon' horyt'
- Oy na hori dva dubky
- Oy na hori zhyto
- Oy na hori kalyna, pid horoju malyna
- Oy na hori nova khaton'ka
- Oy na hori snih bilen'kyy
- Oy na hori pshenychen'ka
- Oy na hori ta zhentsi zhnut'
- Oy na hori tsyhany stojaly
- Oy na horu kozak vodu nosyt'
- Oy na stavu, na stavochku
- Oy nastupyla chorna khmara
- Oy nedavno syrotoju stala
- Oy ne svity, misjachen'ku, ne svity nikomu
- Oy ne svity, misjachen'ku, ta y na toy perelaz
- Oy ne spyt'sja y ne lezhyt'sja
- Oy ne khody, Hrytsju
- Oy ne tsvity buynym tsvitom
- Oy ne shumy, luzhe
- Oy od Kyjeva do sela
- Oy p'je chumak, p'je
- Oy pidemo, zhinko
- Oy pidu ja luhom, luhom-dolynoju
- Oy pid vyshneju
- Oy pid horoju
- Oy pid kalynoju
- Oy pidu ja v sad huljat'
- Oy pidu ja do mlyna
- Oy pidu ja ponad luhom
- Oy pojikhav za snopamy
- Oy polety, halko
- Oy posijav kozak hrechku
- Oy pryjikhav kozachen'ko z polja
- Oy pry luzhku, pry luzhku
- Oy prodala divchyna kurku
- Oy prjadu, prjadu
- Oy pushchu ja konychen'ka v sadu
- Oy rode nash krasnyy
- Oy rozvyvaysja a ty, sukhyy dube
- Oy sad-vynohrad
- Oy svity, misjachen'ku
- Oy svjata Varvara
- Oy spivanochky moji
- Oy stelys', stelys', oy barvinochok
- Oy sudoma, brattja, oy, sudoma
- Oy ta y u poli try dorizhen'ky rizno
- Oy tam za Dunajem
- Oy tam za morjamy
- Oy tam iz-za hory
- Oy tam na hori, oy tam na krutiy
- Oy tam, na tovchku, na bazari
- Oy ty, vyshen'ko, ty, chereshen'ko
- Oy ty, harnyy Semene
- Oy ty, divchyno, horda ta pyshna
- Oy ty, divchyno zaruchenaja
- Oy ty, divchyno, z horikha zernja. Slova I. Franka. Muzyka A. Kos-Anatol's'koho
- Oy ty dube, dube
- Oy ty, dube, zelen dube
- Oy ty, dube kucherjavyy
- Oy ty, ziron'ko ta vechirnjaja
- Oy ty znav, nashcho brav
- Oy ty misjatsju, a ja ziron'ka jasna
- Oy ty misjatsju-zore
- Oy tykha voda, oy tykha voda
- Oy ty, proso-voloto
- Oy u vyshnevomu sadochku
- Oy u vyshnevomu sadu
- Oy u haju pry Dunaju
- Oy luzi, v luzi zelena trava
- Oy u luzi ta shche y pry berezi
- Oy u luzi kalyna stojala
- Oy u nedilen'ku
- Oy u poli viter vije
- Oy u poli dvi topoli
- Oy u poli kray dorohy
- Oy u poli krynychen'ka
- Oy u poli krynychen'ka odna
- Oy u poli mohyla
- Oy u poli nyvka
- Oy u poli pry dorozi
- Oy u poli ptychka
- Oy u poli try krynychen'ky
- Oy khmaryt'sja – doshch bude
- Oy khmelju zh miy, khmelju
- Oy khodyla divchyna berezhkom
- Oy cherchyku ta horobchyku
- Oy chyje zh to zhyto
- Oy chyje zh to sino
- Oy chyy to kin' stojit'
- Oy choboty, choboty vy moji
- Oy choho ty, dube. Slova S. Cherkasenka. Muzyka K. Stetsenka
- Oy chorna ja sy, chorna
- Oy chumache, chumache
- Oy chuju ja cherez ljudy
- Oy shcho to za shum uchynyvsja
- Oy ja divchyna poltavka. Slova I. Kotljarevs'koho. Muzyka M. Lysenka
- Oy ja znaju, shcho hrikh maju
- Oy ja neshchasnyy
- Osinniy val's. Slova M. Lukiva, muzyka A. Andrijevs'koji
- Osinnje zoloto. Slova D. Lutsenka. Muzyka I. Shamo!
- O soloviju! (ukrajins'ku tanho)
- Okh, i ne stelysja, khreshchatyy barvinku
- Okh, i poviy, poviy, buynyy viter
- Okh, ta ne ljuby dvokh
- Okh, u nedilen'ku rano-poranen'ku
- Ocheret luhom hude
- Ocheret trishchyt'
- Ochi voloshkovi. Slova A. Drahomyrets'koho. Muzyka S. Sabodasha
- Pasitesja, siri voly
- Perelaz, perelaz
- Pidem, pane-brate, od khaty do khaty
- Pisnja z polonyny. Slova O. Ponomarenko. Muzyka S. Sabodasha
- Pisnja pro Dnipro. Slova T. Masenka, muzyka P. Mayborody
- Pishla maty na selo
- Plakucha hitara
- Plyve choven bez vesel'tsja. Slova V. Zabily (narodnyy variant)
- Plyve choven vody poven
- Plyve shchuka
- Pobratavsja sokil
- Poviy, vitre, na Vkrajinu. Slova S. Rudans'koho, muzyka L. Aleksandrovoji
- Po dorozi zhuk, zhuk
- Pozhenu ja lebedi
- Poza lisom zelenen'kym
- Polovyna sadu tsvite
- Popid mostom, mostom
- Popid ternom stezhechka
- Porizala pal'chyk
- Posadzhu ja rozhu
- Posadyla ohirochky
- Po sadochku khodzhu
- Posylala mene maty
- Posijaly zhyto, ta y nikomu zhaty
- Po toy bik hora
- Pry dolyni kushch kalyny
- Pryletila perepilon'ka
- Proday, mylyy, syvi bychky
- Pro tse ne treba hovoryty. Slova L. Kostenko, muzyka H. Havrylets'
- Ptychka nevelychka po polju litaje
- Raz prykhodzhu ja dodomu
- Ridna maty moja (Pisnja pro rushnyk). Slova A. Malyshka. Muzyka P. Mayborody
- Rozprjahayte, khloptsi, koni
- Sama sobi divchyna zdyvuvalasja
- Sama ja rozhu posadyla
- Svity, misjatsju
- Sydzhu ja kray vikonechka
- Synu, kachky letjat'. Slova M. tkacha. Muzyka O. Bilasha
- Sijav kozak pshenychen'ku
- Sijav muzhyk proso
- Skazhy meni pravdu. Slova O. Afanas'jeva-Chuzhbyns'koho. Muzyka R. Renikha
- Skazhy, nashcho ja tebe poljubyla (varianty 1,2)
- Skrypka by ne hrala
- Smijut'sja-plachut' solov'ji (Chary nochi). Slova O. Olesja. Muzyka V. Bezkorovaynoho
- Smutnyy vechir, smutnyy ranok
- Snih na zelenomu lysti. Slova M. Tkacha. Muzyka O. Bilasha
- Soloveyko (Oy u sadu na vyshen'tsi). Slova i muzyka M. Kropyvnyts'koho
- Sontse zakhodyt', misjats' iskhodyt'
- Sontse nyzen'ko. Slova I. Kotljarevs'koho, muzyka M. Lysenka
- Sontse nyzen'ko
- Spasybi Vam, mamo. Slova D. Lutsenka, muzyka O. Ekimjana
- Spat' meni ne khochet'sja
- Stavok zasnuv
- Stojit' hora vysokaja (Zhurba). Slova L. Hlibova. Muzyka M. Lysenka
- Stojit' divcha
- Stojit' javir nad vodoju
- Ta vzhe tretiy vechir
- Ta zabilily snihy
- Ta nema hirsh nikomu
- Ta orav muzhyk kray dorohy
- Ta tuman jarom kotyt'sja
- Tam, de Jatran' kruto v'jet'sja. Slova i muzyka A.Shashkevycha
- Ta ne zhur mene, moja maty
- Tvoji kvity. Slova V. Herasymova, muzyka L. Popernats'koho
- Teren, maty, kolo khaty
- Teche voda kalamutna
- Teche richka nevelychka
- Ty do mene ne khody
- Ty zh mene pidmanula
- Ty ljubov moja. Slova O. Novyts'koho, muzyka I. Zhukovs'koho
- Ty nemoja
- Tykha voda
- Tykhyy Dunay
- Tykho nad richkoju. Muzyka P. Batjuka
- Tykho, tykho Dunay vodu nese
- Try porady. Slova Ju. Rybchyns'koho, muzyka I. Shamo
- Tysha navkruhy. Slova O. Bohachuka
- Tuman jarom po dolyni
- Tuman jarom, tuman dolynoju
- U vyshnevomu sadochku
- Ukrajinochka. Slova A. Demydenka. Muzyka H. Tatarchenka
- Umyraju, moja maty, vmyraju, vmyraju
- U susida khata bila
- Khata moja, bila khata. Slova D. Lutsenka. Muzyka A. Pashkevycha
- Khrystova ljubov. Slova T. Maydanovych, muzyka T. Dyman'
- Tsvite teren
- Tsvite, tsvite cheremshyna
- Chas dodomu, chas
- Chas rikoju pdlyve
- Chervona ruta. Slova i muzyka V. Ivasjuka
- Chervonaja, oy ta kalynon'ka
- Cheremshyna. Slova M. Juriychuka. Muzyka V. Mykhayljuka
- Chy ne toy to Omel'ko
- Chy ty, mylyy, pylom prypav
- Chy ja v luzi ne kalyna bula
- Choho zh voda kalamutna. Slova I. Kotljarevs'koho
- Chohos' meni chudno
- Choloviche, ja slaba
- Chom dub ne zelenyy
- Chom ty ne pryyshov
- Chom, chom ne pryyshov
- Chom, chom, chom zemle moja. Slova K. Halyts'koji, muzyka D. Sichyns'koho
- Chorna rillja izorana
- Chorniji brovy, kariji ochi. Slova K. Dumytrashka. Muzyka D. Bonkovs'koho
- Chorni ochka, jak teren
- Chornobryvtsi. Slova  M. Synhajivs'koho. Muzyka V. Vermenycha
- Chornomorets', matinko, chornomorets'
- Chujesh, brate miy (Zhuravli). Slova B. Lepkoho. Muzyka L. Lepkoho
- Chumarochka rjabesen'ka
- Shumyt'-hude dibrovon'ka
- Shumyt', hude ta dibrovon'ka
- Shcho z-za hor-hory jidut' mazury (Oy iz-za hory jidut' mazury)
- Ja bachyv, jak viter berizku zlomyv. Slova i muzyka V. Aleksandrova
- Ja v materi odna bula
- Ja v seredu rodylasja
- Ja zh tebe, Halju, ne laju
- Jakby meni ne tynochky
- Jakby meni syvyy kin'
- Jakby ja buv Potavs'kym sots'kym
- Jak na adl'nim neboskhyli
- Jak zasjadem, brattja, kolo chary
- Ja – kozachka tvoja. Slova N. Halkovs'koji. Muzyka M. Zbarats'koho
- Jak pojikhav miy mylen'kyy na bazar, do ridni
- Jak ishov ja z Debrechyna
- Jaseny. Slova M. Tkacha. Muzyka O. Bilasha
- Ja chasto matir zhaduju svoju. Slova V. Kovtuna, muzyka O. Bilasha
SPIVANOChKY DLJa DITEY
- A-a, kytsja-mura
- A, nu, nu, nu, kotaru
- Ruchen'ky-nizhen'ky (kolyskova). Slova M. Soma, muzyka O. Sandlera
- Hoyda, hoyda, hoydasha
- Oy baju miy, baju
- Hoyda, hoyda, hoydashechky
- Pryydy, sonku, v kolyson'ku
- Kotyku siren'kyy
- Oy spy, dytja, v kolyson'tsi
- Lele, lele, lelesen'ko
- Ljuli, ljuli, Vasylechku
- Ljulju, ljulju, ljuleshyku
- L'on zbyrala, tonki nytky prjala
- Oy kit-vorkit
- Oy nu, kote, kotochok
- Oy ty, kote, ne hudy
- Oy nu, kotku rjabku
- Khodyt' sonko
- Oy nu, kotu siryy
- Oy nu, ljuli, ljuli
- Oy spy, dytja, bez spovyttja
- Oy ty kytsju, kytsju
- Oy ty, kote rjabku
- Oy khodyt' son kolo vikon
- Prylynuly holuby
- Kolyson'ko, kolyson'ko
- A-a, ljuli
- Pytajet'sja son drimoty
- Tusi, tusi
- Khyti, khyti
- Khodyt' kit po hori
- Khodyt' harbuz po horodu
- Vechirnja molytva. Slova L. Nedin, muzyka O. Turchenko
- Dobryy vechir vam
- Den' narodzhennja. Slova T. Maydanovych, muzyka L. Levchenko
- Mnohaja lita
- OSNOVNI DZhERELA
- Hutsal V. O. Narodnyy spivanyk Andrija Mykhalka
- Andrijivs'kyy L. I. Iz istoriji ukrajins'koji narodnoji pisni
- Maydanovych T. V. "Vzjav by ja banduru..."
- Pro uporjadnyka (vikhy biohrafiji)