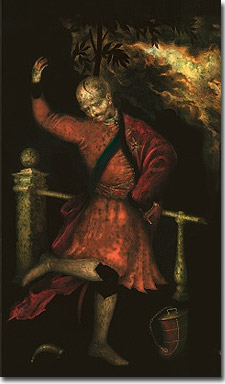 "The tragic events of the eighteenth century and the bright images of Haidamak movement poignantly and uncompromisingly emphasize the heartache of Shevchenko for Ukraine and its people. The audience will not find on these pages a single white stroke or spot, but they will be surprised by the Confederates, Yarema, Honta in Uman created with the imagination of artist Oleksiy Kolesnykov. As well as their deep correspondence to the "fiery" word of Kobzar and the Ukrainian culture of those times."
Premium illustrated edition.

In Ukrainian
.
Illustrations: Oleksiy Kolesnikov
Edition type: hard cover, dust cover
Format: 162x298 mm
Number of pages: 156, illustrated
Publisher: Grani-T, Kyiv

Contents
:
- "Vse yde, vse mynaje Ц i kraju nemaje..."
- Introduktsija
- Halayda
- Konfederaty
- Tytar
- Svjato v Chyhyryni
- Treti pivni
- Chervonyy benket
- Hupalivshchyna
- Benket u Lysjantsi
- Lebedyn
- Honta v Umani
- Epiloh
- Peredmova (do pershoho vydannja 1841 roku)
- Panove Subskrybenty! (nadrukovano na obkladyntsi pershoho vydannja 1841 roku)
- Prymitky avtora (do pershoho vydannja 1841 roku)
- Komentar vydavtsja (Diana Klochko)