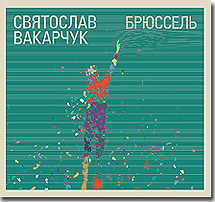 We announce the action "New album from Svyatoslav Vakarchuk – For Free!"
During the action, you will have the opportunity to receive as a present the new album by Svyatoslav Vakarchuk – "Brussels"!
For this purpose, you need to order no less than 5 (five) of any of our items (discs or books) – and then you will be able to receive the new work by Svyatoslav Vakarchuk free, as a present!
Attention!!! In order to receive the free disc, you need to write in the comment to your order: Brussels – as a present. The disk "Brussels" in this case should not be included into the order – only if you want to receive more than one copy.
As ever, postal delivery in Ukraine is free of charge. We also deliver free of charge orders for more than 150 USD all over the world.
Do not delay! The most interesting things are always bought up fast!