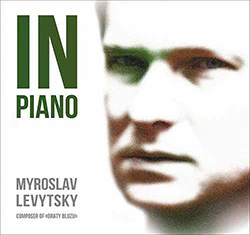 Note
:
until March 9, 2018, we have a special offer for the album "In Piano" by Myroslav Levytsky!
So:
- for all customers from other countries, there is the special free shipment offer during this period: orders of any volume to include at least one copy of "In Piano" will be shipped for free (i.e. after customers pay the full price of the order, and we will refund the shipment cost for them) – even where the order only comprises this disk.
- customers from Ukraine, only during this period, have the exclusive opportunity to buy the new album at the price of UAH 305, while starting from March 10 the price of this release for customers from Ukraine will be approximately UAH 500.

In a similar way, you can obtain "Elegant Dualism" album by Levytsky-Newland