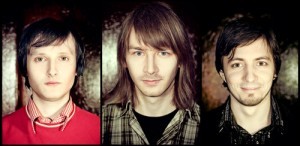 kyiv indietronic/experimental-pop project 2sleepy (aka Nadto Sonna):

Vsevolod Solntsev - sleeps 9 hours. in his spare time he sings and plays the synthesizers
Yurko Marchenko - sleeps 8 hours. he plays guitar and keyboard when he doesn't dream
Andriy Prokopenko - sleeps 8 hours. ouf of dreams he programs the sounds in his sampler, manages effectors and sings from time to time
information, photo from official site:
http://2sleepy.info/
Nadto Sonna (2sleepy) the electronica trio based in Kiev, Ukraine. After their debut "Fragments Of Sleep" was released on the Austrian label "Laridae" in 2006, the band gained a reputation of being the most interesting member of the independent Ukrainian pop-consortium. Audiences and critics warmly welcomed their second album "Art Fraud", which was named one of the best albums of the year in the issue of "Glavred" magazine
"Nadto Sonna" participated in the international festival of experimental electronic music "Detali Zvuku", performed gigs with the famous Russian cultural icon "Dolphin", as well as with German electronica project "SWOD". People in the band pay a lot of attention to their shows: they collaborate with various VJs to create a vibrant, memorable atmosphere. At concerts "2sleepy" play live, using the entire arsenal of their musical gear: synthesizers, samplers, effectors, and guitars.
so: Seva Soncev - vocal, programming, keyboards, Yurko Dorialan - guitars, keyboards, Andriy Paranoid Ц programming, keyboards, drums
information from: http://www.myspace.com/nadtosonna