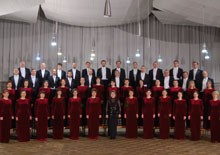 Platon Maiboroda Academic Choir of National Radio Company of Ukraine
.
Academic Choir of National Radio Company of Ukraine named after P. Maiboroda is one of the original bright collectives in our country. Its creative works cover almost all layers of native and foreign musical culture: folklore, first examples of sacred music, masterpieces of world classics and contemporary works of choral singing. The collective was founded in Kharkiv in 1933. Thanks to the long-term and fruitful work of such conductors, the prominent artists of the XX-XXI century G. Taranov, O. Minkivskyy, V. Min'ko, Y. Taranchenko, G. Kulyaba, V. Maltsev, P. Muravskyy, V. Skoromnyy, the Choir became highly art center of the country. 
For almost eighty years of the Ukrainian Radio Choir's history has enriched the cultural heritage of the Ukrainian people by thousands upon thousands of recordings of the best world and national choral music works. The chief place in this recordings collection belongs to large-size, socially significant opera-symphonic, cantata-oratorio compositions of the outstanding foreign and Ukrainian composers that maintain humanistic ideals and universal spiritual values.
The Choir has always actively promoted the Ukrainian choral music heritage. The Choir made recordings of the choral concerts by M. Berezovsky, A. Vedel, D. Bortniansky, M. Kontsevich, works of M. Leontovych, K. Stetsenko, O. Verykivsky, O. Koshytz, D. Sichyns'ky and others. The Choir takes a special pride in the recordings that were made with the great singers who in different periods of time collaborated with the Choir and whose voices have been recorded forever. They are O. Zagrebelny, V. Zarkov, L. Yurchenko, G. Tuftina, M. Kondratiuk, A. Mokrenko, A.Kocherha, O. Basystiuk, L. Zabilyasta and others.
For many years of its fruitful activities the Choir of the National Radio Company of Ukraine served as a real artistic laboratory for the contemporary Ukrainian composers, whose works were first performed by the Choir that proved to be its brilliant interpreter. Thousands of gems cantata-oratorio, song and choral genres, arrangements of Ukrainian folk songs created by L. Revutsky, B. Lyatoshynsky, K. Dankevych, G. Maiboroda, P. Maiboroda, I. Shamo, O. Bilash, Y. Meitus, Y. Stankovych, B. Buevsky, A. Gaidenko, V. Stepurko, L. Dychko and recorded by the Choir make a live sound chronicle of the national musical art development.
The Choir of National Radio Company of Ukraine maintains an active concert and tours activity. It is a regular participant of "Kyiv Music Fest" and "Musical Premieres of the Season". The Choir often tours in Poland, Hungary, France, Italy, Spain, Germany, the Netherlands it represented the art of Ukrainian choral singing with high dignity. The Choir demonstrated its high artistic level and professional skills which undoubtedly promoted spiritual closeness among nations and facilitated integration of the domestic culture into the world humanitarian space.
Now former choirmaster of the Choir Julia Tkach heads the collective.
information, photo from: http://www.nrcu.gov.ua/index.php?id=446