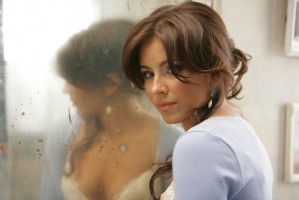 Ani Lorak
- one of the most successful and honored Ukrainian artist. Ani Lorak is considered to be a pride of a national musical scene. By 2004 Ani established her name within Ukrainian pop culture as a hard working and touring local artist who could sell out every venues around Ukraine.
Her repertoire includes more than 100 songs, 21 videos in soul, funk, pop-rock and dance styles.
1995
: Winner of a TV contest "Morning star", Moscow. Second place award in all Ukrainian fest "Chervona Ruta", Sevastopol.
1996
: The first CD "Khochu letat" (Want To Fly) is released. Grand prix in world contest of young performers "Big Apple Music-96", New York.
1998:
The second CD "Ya vernus" (I Will Come Back) is released.
1999:
"Honored artist of Ukraine" by the president of Ukraine. Starring as Zemfira in "Tzygany" musical.
2000:
Autobiographic film "Ani Lorak forever" is released. CD "www.anilorak.com" is released.
2001:
"Ani Lorak forever" is recognized the best Ukrainian musical film in 2001. CD "Tam de ty je" (There Were You Are ) is released. Starring as Oksana in "Vechera na khutore bliz Dikanki" musical.
2002:
CD "Tam de ty je" (There Where You Are) becomes Gold in Ukraine.
2003:
CD "Remix Mrij pro mene" (Dream About Me) is released. Starring as Fanshetta in "Figaro's wedding" musical.
2004:
"Singer of a year 2003" UBN Award, UK. UN Good will ambassador for the problems of HIV, AIDS in Ukraine. CD "Ani Lorak" (for the first time Ani acts also as a song writer on it) is released.
2005:
Ani Lorak is recognized as the best singer of 2004. CD "Smile".

2008
: Ani Lorak presenting Ukraine on the
Eurovision Song Contest-2008
in Belgrade...
information, photo from Ani Lorak web-site:
www.anilorak.com