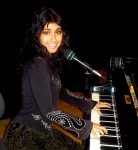 HISTORY OF THE BAND
Family couple of Maryna Zakharova (Marinita) and Borys Zakharov founded music band Anno Domini in 1997. At the beginning the band's style represented an organic combination of jazz, Ukrainian and Gipsy folk music and rock music. Maryna's variegated authentic and jazz vocal, folk music traditions in combination with jazz performance, Boris' original Ukrainian poetry - all this creates a unique colouring of ANNO DOMINI performances.
ANNO DOMINI is an international project. The band's guitar player and arrange-maker Dima Gorelik lives in Israel.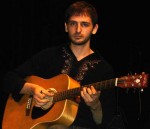 1. Performances
During 1997-2001 Maryna Zakharova with ANNO DOMINI participated in more than ten international and national festivals. Maryna also performed in Nazareth (Israel, 1999) and Przemysl (Poland, 2000).
In April 2002, 2003 and 2004 ANNO DOMINI participated in the I, II and III International Jazz Festival "Kharkiv-Haifa".
In May 2003 ANNO DOMINI performed with a huge success at jazz festival "Lviv Weather-Vanes."
Marina Zakharova often performs with solo programs (vocal and piano). This program includes her original jazz works and "standards." In December 2003 Marina succeeded in the music nomination of All-Ukrainian Competition of Young Artists "START".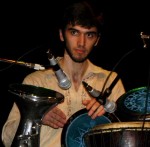 March 2004 - ANNO DOMINI performed in International Jazz Festival "Ednist" (Unity)
August-September 2004 Maryna Zakharova with guitar player Dima Gorelik had a tour in Israel: there were 11 concerts in Tel-Aviv, Jerusalem, Haifa, Hadera, Tsfat, Tivon and other places. In September 2004 Maryna also took part in Tel-Aviv International Jazz Festival.
In November 2004 Maryna gave three concerts on Kharkiv central square against falsification of elections in Ukraine to support Orange Revolution.
In December 2004 ANNO DOMINI performed at Poland-Ukraine International Jazz Festival "Jazz Bez" in Lviv and Przemysl (Poland).
In November 2004 - January 2005 ANNO DOMINI took part in the project Music for Human Rights financed by American Councils for International Education: ACTR/ACCELS. Four project events named Music of Freedom have been held in three cities of Ukraine: Kharkiv, Lviv and Kyiv.
2. Discography
In 1999 ANNO DOMINI released its first album "Za obriem" (Behind the Horizon). The same year Ruslan Horovyi, a film director from Kyiv, shot a video to the band's song "Scho Dali" (What is to come?).
In 2002 ANNO DOMINI presented to public jazz CD "Kharkiv-Haifa" with "Try Khvyli Chasu" trilogy (Three Waves of Time).
In summer 2003 Ruslan Horovyi completed his work on the band's video "U fokusi chasu" (In The Focus of Time). The video was presented on many national, satellite and regional TV channels.
In March 2004 ANNO DOMINI released its second album "In The Focus of Time".
In March 2005 ANNO DOMINI released its third album "Sand & Stone". At the same time, music, videos and other materials of ANNO DOMINI's creative work were published in the multimedia CD "Music of Freedom".
information, photo from official site: http://annodomini.rock.com.ua