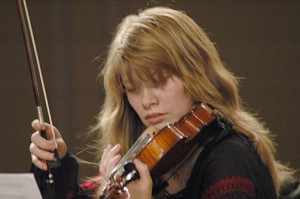 Bohdana Pivnenko
(1977) — Honoured Artist of Ukraine, is one of the most prominent of the young generation of violinists. She was graduated with honours and completed an assistantship programme course from the Tchaikovsky National Music Academy of Ukraine, studying with Prof. Bohodar Kotorovych and Prof. I. Pylatyuk. and also took part in master classes conducted by V. Tretyakov and Z. Bron, amongst others.
Bohdana Pivnenko is a Laureate of the Interpreters Performers International Competition (Chisinau, Moldova, 1997), Laureate of M. Lysenko International Competition (Kyiv, 1997), Laureate of the National Arts Programme, "New Names of Ukraine". From 2000 until 2004 the young violinist was concertmaster of the
Kyiv Soloists National Chamber Orchestra
, which presented Ukrainian musical culture at concerts in Moscow, Paris, Vienna, Berlin, Munich, and also at festivals such as The Warsaw Autumn, Rurskij and the Viennese (Gran prix winner). Bohdana Pivnenko has performed as soloist with the leading Ukrainian symphony and chamber orchestras. She regularly takes part in the premiere performances of works by modern Ukrainian composers, and has concert tours.
She is currently on the faculty of the Tchaikovsky National Music Academy of Ukraine.
information from:
http://kievkamerata.lucky-staff.com.ua/eng/bogdana_pivnenko
photo from:
http://lysenko-school.org/content/view/51/51/