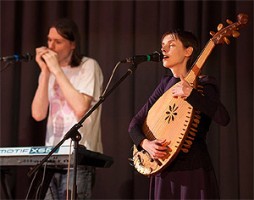 "Long ago in the Donegal Mountains lived a simple peasant, who had more wisdom in his little fingernail than most of our modern day Lawyers and Philosophers. And his name was Dark Patrick.
"His stories and the nature of his wisdom are preserved for future generations, not in books with expensive bindings, but in the hearts of the people."
(from the tales of Dark Patrick)
Dark Patrick performs music and songs from Ukrainian, Irish, Scottish and Breton traditions. Whilst having their own individual style, Dark Patrick seeks to maintain the integrity of music that is deeply rooted in tradition. All the members of the group are active in folklore expeditions which take them to villages in the Carpathian Mountains.
Dark Patrick is a meeting of two cultures, unique and individual, yet alike in the uplifting nature of their melodies.
A new school on the Folk Bandura combining aspects of the magically light and skillful touch of the Irish Bards with the dramatic soul of the Ukrainian Kobzars.

The inexhaustible optimism of Irish, Scottish and Breton songs, that even in the deepest tragedy still maintain their childlike joy.
The insanely hard driving rhythm of Carpathian melodies.
Patrick took hold of his traveling staff, tied up his bundle, and anyone standing by would have seen this lonesome traveler boldly striding out on the road to the North.
We will be glad to perform for you at any place on this planet!
information, photo from official site: http://www.darkpatrick.com/