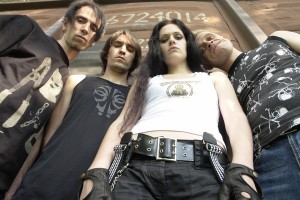 The band
De Shifer
was created in 2001 in Kyiv (Ukraine).
De Shifer plays alternative metal.
The band took part in and was the prize-winner of many All-Ukrainian fests (Chervona Ruta, Koblevo, Fortetsya and other); was the finalist of All-Ukrainian national competition Eurovision-2005.
The song "Chas priyshov" ("Time has come", Belarusian version) was the head of collection "Songs of freedom-2" (2006) of independent belarusian music label "Vol³aMus³c".
This song (Ukrainian version) became the soundtrack of films "Time's UP!" (director A. Lloyd, 2005, Canada), "Dwarfs Go to Ukraine" (director M. Dembinski, 2005, Poland), documentary film "Orange Chronicles" (director D. Kolodiy, 2006, USA-Ukraine).
In 2007 De Shifer took part in concerts with legendary bands – "Therapy?" and "Bloodhound Gang". The band participated in international fest COKELIVE-2007 (Romania, http://www.cokelive.ro)
De Shifer:
Bogush Dmitriy – vocalist, guitar
Kotova Yuliya – vocalist
Kolesnikov Ruslan – bass
Ivanov Artem – drummer
information, photo from official site:
www.deshifer.com.ua