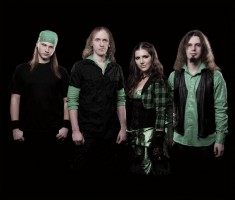 Anastasia - vocals
Sergey - guitars
Mikhail (Michael) - bass guitars
Vitaliy - drums
Ukrainian band DELIA has been existing since September 2005. Beautiful lyrical female vocal, keyboard with the symphonic slope and rocking beats - key elements, on which the music of Delia is based. Nevertheless at every stage of the creative process musicians try to find new, more interesting sound. The variety of material, creative approach to the making of music and performing in Ukrainian language identify DELIA among number of Ukrainian bands on hard stage.
Active concert and organizational activity encourages the fact that the name of the band becomes well-known in different musical circles of Ukraine. DELIA is the only one hard group in Ukraine that performs live with choir.
In April 2009 the presentation of a debut video of the band was held. The song is called "Dead city" and it is dedicated to the memory of the city Pripyat and to its ex-citizens and all people who suffered as a result of the Chernobyl accident in 1986. Also the official release of an English version of the video was held.
In January 2010 the band released the debut album "Spohad" ("Recollection") in collaboration with the label "ßÎÊ Music". The recording of the album was held at the "Blacklight" recording studio, editing and mastering was done by Sergey KNOB Lyubinskiy. Album consists of 13 songs and 2 bonus tracks. Language - Ukrainian.
"Spohad" is a debut work of musicians that unites the best songs which were created during the whole period of the band existing, from the beginning of its activity. "Spohad" is a transitional stage between impressions of the past and the expectations of the future, it is drown line of everything obtained before the new life stage, it's a look back but a step ahead… The whole palette of emotions and feelings that filled every member of the band during joint career is inserted in this album.
From 2005 the group has been actively performing in Ukrainian cities and has been taking part in Ukrainian and international festivals.
Main achievements: Grand Prix at the festival "Rock-swallows" of the season 2007/2008, second place at the festival "Bingo Cover Fest" of the season 2009, participants and laureates of the international festivals "ProRock", "Children of the night", "Global battle of the bands" etc.
information, photo from the official site:
http://www.delia.com.ua/