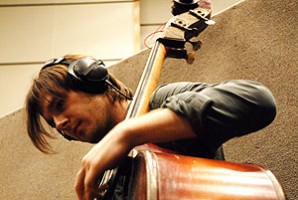 Denys Dudko
was born in Kharkov, Ukraine, 24th of November 1975. From six years old started studying in musical school 9, in class of academical cello.
In 1990 entered the Kharkov special musical school, where started taking lessons on double bass.
In 1993 had entered Kharkov institute of arts on jazz department in class of double bass and bass-guitar. In this period began listening and interesting jazz music.
From 1995 till 2004 is the member of jazz-group
Skhid-Side
. In 1998, after graduating from institute of arts, started teaching in the class of double bass, bass-guitar, improvisation and ensemble in Kharkov institute of arts, Kharkov academy of culture and Kharkov college of music. During this period is taking part on many jazz festivals in Ukraine, Russia, Spain, Sweden, Finland, Poland, Germany, France, Lithuania.
From 2004 is the member of famous Ukrainian rock-group
Okean Elzy
.
In 2009 forms the jazz quintet
"Dudko"
with the famous Ukrainian jazz musicians Alexey Saranchin, Dennis Adu, Bogdan Gumenyuk and
Alex Fantaev
.
information, photo from:
http://www.myspace.com/denysdudko