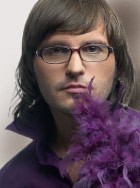 He is a composer, an arranger and a musician. He composes the music for many famous local pop-stars. He's always wanted to surround himself with those who want to create music and know how to do it together. He writes the kind of music that makes you dance and find yourself crying because of happiness.
He is
Alexey Gorchitza
.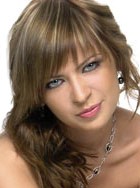 She is a live PA, club singer and an extraordinarily beautiful girl. Her voice have been broadcasted on air on a radio and TV channels for the last few years. You hear her songs in fashionable metropolitan clubs. Probably, she was a coloured soul- singer in a previous life. That is what you would think if you ever listened to her voice.
Her name is Alloiz.
Destiny brought them both together.
One year ago Alexey had been remixing a track of a famous European electronic musician, when he was told about a singer with an amazingly beautiful voice. They met soon after and found out they had much in common. And what is most important – they have one way. Now you can see them performing together, playing the music they have been always reaching for and showing you the things they have been always dreaming of. There is a band of live performing musicians making the songs sound better and turning the show into event full of life. There are many friends standing behind them listening to their music and loving what they're doing.
Together they are
Gorchitza Live Project
.
information from official site:
http://www.gorchitza.com/
photo from:
http://gorchitza.nikportal.net/