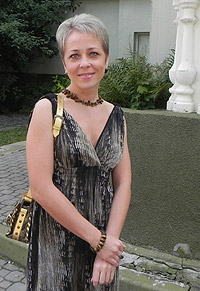 Iryna Aleksiychuk
- a composer and a pianist, prize-winner of national and international competitions, laureate of National L.Revutsky Prize, a docent of composers' department of National P.I.Tchaikovsky Academy of Music. Graduated from Kyiv National P.I.Tchaikovsky Conservatoire with outstanding, her majors being "Piano", "Composition", "Organ" (optional), also completed the post-graduate studies in a mentioned conservatoire at the composers' department. Iryna Aleksiychuk is a member of National Union of Composers of Ukraine since 1998.
A diploma-holder of a National S.Prokifiev Young Composers competition (Donetsk, 1993), a prize-winner of the 1st International competition for chamber music performers "Golden Autumn" in "Piano duo" category (Khmelnytsky, 1993), a winner of the 45th International ARD competition in "Piano duo" category (Munich, 1996), a prize-winner of the 6th International Murray Dranoff piano duo competition (Miami, 1997), prize-winner of the 1st All-Ukrainian composers competition "Spiritual Psalms" for best choir composition based on the biblical texts (Kyiv, 2001). Awarded by L.Revutsky National Prize of Ministry of Culture of Ukraine, National Composers' Union of Ukraine and National All-Ukrainian Music Union for concert activities and performing of modern music.
Since 1994 works as a professor of composition, scores reading and orchestration at the composers' department of National P.I.Tchaikovsky Academy of Music. I.Aleksiychuk gives a plenty of concerts in Ukraine, Russia, Belarus, Moldova, Serbia, Italy, Germany and USA as a pianist, composer and organist, as well as a pianist in piano duo with
Yuriy Kot
, an Honoured artist of Ukraine.
I.Aleksiychuk works in various genres, such as: symphonic, choir, vocal chamber and instrumental. many choirs repeatedly received awards and grand-prixes in the international choir competitions for performing the compositions of a contemporary composer after choosing Iryna Aleksiychuk's choir pieces. Among the performers of her choir music are
municipal chamber choir "Kyiv"
, Kyiv municipal chamber choir "Khreschatyk", Female choir of R.Glier Kyiv State Higher Music Colledge, Boy's choir "Dzvinochok", Chamber choir "Taipei Chamber Singers" (Taiwan) and others.