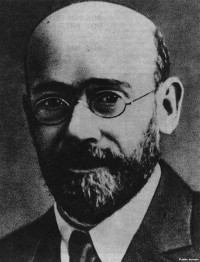 Janusz Korczak
, the pen name of
Henryk Goldszmit
(1878-1942), was a Polish-Jewish educator, children's author, and pediatrician known as
Pan Doktor
("Mr. Doctor") or
Stary Doktor
("Old Doctor"). After spending many years working as director of an orphanage in Warsaw, he refused freedom and stayed with his orphans when the institution was sent from the Ghetto to Treblinka extermination camp, during the Grossaktion Warsaw of 1942.
In his pedagogical works, Korczak shares much of his experience dealing with difficult children. Korczak's ideas were further developed by many other pedagogues such as Simon Soloveychik and Erich Dauzenroth.
From
Wikipedia, the free encyclopedia
.
photo from:
http://www.radiosvoboda.org/