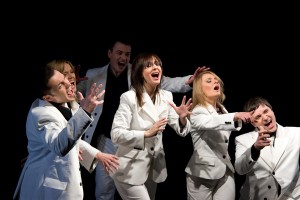 The vocal group
JazzEx
was created in 2005 by the group of like-minded people. In the first place, these musicians have been united by their love to a cappella singing. To the moment of their meeting, each participant of the group has accumulated his own experience and unique knowledge in this genre.
JAZZEX is only one famous mixed a cappella group in Ukraine (sopranos Tatiana Shylova and Elena Orlova, alto Marina Kerusenko, tenor Sergey Yurchenko, baritone Pavel Moskalenko, bass Dmitriy Efimenko). The group actively collaborates with the famous percussionist Alexander Beregovskiy.
The repertoire of the group is exceedingly various, completed according to the most opposite tastes of a public. JAZZEX gets an inspiration from the folk sources and a jazz treasury, from academic art and a popular music. The big part of their repertoire belongs to the very talented arranger, composer and pianist - Alexander Lysokon.
The unrestrained thirst of experimenting, an attempt to combine the incompatible things, leaving the frames of accustomed stereotypes, have found an exit in the project of two groups directed to the different sides - a rock-group "Druha rika" and a cappella group JAZZEX. In the spring of 2007 the co-version of the song "Vidchinjai" has started at the different Ukrainian broadcastings. The video-clip of the same song was rotating actively at the leading music channels. The song "Vidchinjai" was keeping at the leading places of the national radio charts for a long time.
The debut album of group "Bee JAZZEX" has been published 6th of December, 2007.
At the present moment JAZZEX has rehearsals, tours, works about new projects. JAZZEX is a high professionalism, the example of team creating, the great experience, the six fold inspiration, the best music of the past and present, - like the world famous hits and modern rhythms, the Slavic folklore and endless music universe...
The JAZZEX's purpose is to bring real music to the public, to give the sincerity which goes from their hearts...
photo from official site:
http://jazzex.com.ua/