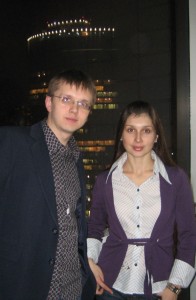 You may not believe it, but
LoTus feat. Rosava
is the first studio attempt of
Leonid Titov
. And from now on, he is officially a songwriter, a pianist, a guitarist, and a producer. For the so called "Ukrainian pop music", his approach to making music is quite unique: a combination of double-bass, horns, strings, "essential" guitar, grand piano and other keyboards is the background for Rosava's sometimes child-like, yet powerful voice.
Once upon a time, when Leonid Titov was not named a LoTus Project, he made a variety of funny things… At first, he played in an obscure blues band. After the rehearsals, his bandmate and he often nested their inspired selves into comfortable chairs with an ashtray in between to listen to some Chopin's piano pieces from an old LP. Actually, this could be a good illustration of Mr. Titov's persona - his diversity and extremes. Later, he founded his own band, which reflected his passion for American and Irish folk music. This group was hardly documented in Ukrainian music history. Alas, these young guys tried to do more that they were able to. Luckily, some of us, after turning the magic age of 30, manage to finally find the way to properly arrange things. Then one would just write new songs and invite some of the best cats in town to make a new music happen.

In the same token, the one of the core ideas of the LoTus Project was to invite Rosava as a guest star to bring them all the fanciest author's whims to reality. Despite the fact that Rosava is a Ukrainian pop/crossover star, she turned out to be absolutely open to those special whims, and was creative throughout the process of making this album, which lasted for about a year, even if it was with a person who wasn't known as a musician in a world of show-biz. In the past, she underwent quite a few experiments with pop, Ukrainian folk, and even jazz music before. Now she sounds absolutely different from what she was known for.

In the beginning, Titov and Rosava recorded a couple of songs almost "just for fun". But Rosava loved the recordings, and it became obvious that they have to make the entire album together. As Rosava said, Leonid was a hell of a pro working both with her personally and with all the musicians involved with the album, and he knew exactly what he wanted to hear. (Not too bad of a feedback for the first-timer).
Nowadays, Leonid Titov aka LoTus shies away from performing live gigs, insisting on the album being "just a studio project". But the concerts are starting to look inevitable – rearranged for a small combo, and with the beautiful voice of Rosava on top of it…
information from:
http://myspace.com/lotusfeatrosava
LoTus & Rosava - on the photo.