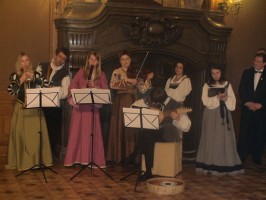 The name of the ensemble Lvivs'ki Menestreli (The Lviv Minstrels) emerged in the year 2000.
Its aim is to revive the atmosphere of the past and thus to help people feel their ties with history, with their long-gone past which persists in every one of us. In the XIV-XVII th cent. England and France the word "ministreals" meant "professional musicians". Hence the name of the ensemble – "The Professional Musicians From Lviv" – "Menestreli Leopolita".

The compositions played (The programme):
the works of such eminent minnesingers as: N. von Reental (1190-1240), O. von Wolkenstein (1377-1445), F.Landini (1325-1397), A. de la Halle (~ 1230-1285); "CARMINA BURANA" XIII cent.; Codex LO XIV th cent.; Cantigas (pilgrim songs) from the world-famous Red Book of the Spanish monastery Monserrat (XIV th cent.); Cantigas to Saint Mary from the Spanish collection of Alfonso X el Sabio (1223 – 1284); The work by Spanish, German, English (Estampie from Robertsbridge Codex), Italian , Irish and Scottish anonyms of the XIII – XV th centuries;
Together with the partners – Kyiv Old Dance Group the perform the court music of the Renaissance period (anonyms), as well as compositions by: J. de Pres, K.Jerwese, P.Phallese, T.Susato, P.Ataniane, A. le Roy, F. de la Torre;
French court music of Bourbons dynasty XVI-XVII st. (times of Maria Medichi, Queen Margo, cardinal Rishelie, nime of Versall Balls);
Barocco period - music by A.Corelli, J.B.Lulli, Y.Y.Kuanse, R.Valentine, A.Vivaldi, H.F.Hendel, G.F.Teleman, D.Gabrielli.
Early Polish and early Ukrainian anonyms
XV-XVII cent:
Lviv luthe tabulature (XVI ñent.)Luthe tabulature Mateusza Waisseliusa (1592); Organ tabulature Jana z Lublina (XVI ñent.); Organ tabulature August Nermiger (XVI ñent.); Bratislava tabulature (XVII ñent.); Silva Rerum (XVII ñent.)
end as well as
compositions by XIV-XVII cent.
: Mikolay from Krakov, Marcin from Leopolita, D.Kato, A.Dlugoray, M.Diletskiy
Musicians
– the members of the ensemble – are former students and post-graduate students of Lviv, Kyiv and Moscow Music Academy, prize winners of regional and all-ukrainian and international music competitions, and they are in love with the past.
Igor Matseluh - reñorder (soprano), fifes, Pana, guculien bagpipes, tylenka
Bozhena Korchinska - reñorders, fifes
Yaroslav Ilnitskiy - reñorders,  traverso
Anna Ivanjushenko - spinet, harpsichord, vocals, penderetta, tar, sonagli
Volodymyr Veretelnyk - darbucca, tar, sonagli
Romanna Gun'ko - vocals
Volodymyr Meheden - alt
Juriy Turkanyk, Halyna Zhuk - barocc cello
Lena Dadukevich - fiddle, violin, trombomarine, the Art Director of the ensemble.
information, photo from the official site:
http://www.lviv-menestreli.lviv.ua/