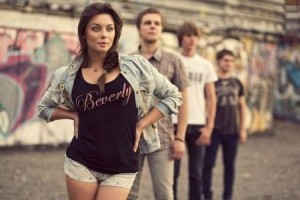 Everything begun in February 2008. At first, group was created as a project for some concerts, nobody expected something more from that. Debuts were even without a drummer. When Vitalik (who played with Vova in another band before) joined
Nedaremno
high-grade rehearsals, work on new material and concerts begun.
The second part of 2009 became difficult because of changes in band – at the beginning of summer came Rostislav (guitar), in October – Maks (bass-guitar). New members of the band made the sound more bright and interesting. As a matter of fact, new people = new ideas and the new songs were born. In December 2009 there is first studio record EP "Antytila" in Studio 211, Kiev. In the end of 2010 new vocalist Mari joined Nedaremno.
During 2011 band continues to appear with concerts in different cities of Ukraine, took part in the international rock-festival "Slavs'ke-rock 2011". The repertoire is also updates, quality of sound becomes much better and Nedaremno prepares to record their album.
In January 2012 a band records it's debut studio album in Ivano-Frankivs'k on "Frost Magnetic Records", films video clips and composes new songs.
information, photo from the official site: http://nedaremno.com.ua/