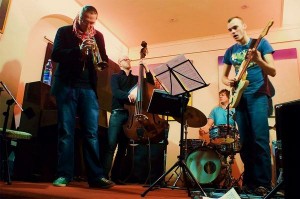 OFF-QUAR-TET [OQT]
is an international music band, which arise during the study in Carl Nielsen Academy in Denmark.
Leader of the group is its guitar player and composer Marek Kadziela.
OQT music is an incredible mix of contemporary, ad hoc music connected with modern acoustic jazz, advanced in harmonic and rhythmic form but, given in understandable way even for the beginner.
Musicians are well-known at the Danish and Polish music market, because of many artistic awards, distinctions and cooperation with leading artists from both coutries.
In 2009 OQT was touring around Poland, Denmark and Ukraine, like for instance: Tygmont and Jazzownia Liberalna i Warsaw, Ucho in Gdynia, OdNowa in Toruniu, Jazz Club Dexter. OQT also participated in many festivals, for example: Krokus Jazz Festival in Jelenia Gora, Jazz Koło in Kiev, JazzBez in Lwiv and Sevastopol.
In november Off Quar Tet recorded material for the first album. In december we also recordem DVD concert in Kiev on Jazz Kolo Festival.
information, photo from:
http://www.myspace.com/offquartet