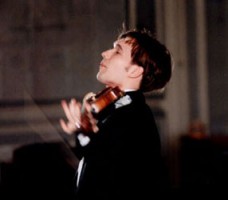 1976 -
Ostap Shutko
was born in Lviv in the family of musicians
1983-93 -
Solomia Krushelnytska
Music Boarding School (studied with H. Heifer, I. Shutko)
1993-98 - M. Lysenko Higher Musical Institute (Prof. L. Shutko)
1998-99 - Guildhall School of Music and Drama (Y. Neaman)
1998-2001 - P. I. Tchaikovsky National Academy of Music ( Prof. B. Kotorovich)
Master-classes with A. Lysy, L. Spiller, M. Skampa, I. Bezrodny, Z. Bron and others. Owner of the President of Ukraine, UNESCO, the Queen of Spain scholarships.
Prize-winner of the international competitions in Vilnius, Weimar, Pzemysl, Barcelona, Kyiv.
1999 - 2001- Artist of the
State Chamber Ensemble "Kyiv Soloists"
.
2001 - "Kyiv Soloists" (O. Shutko as a leader) has got 1st Prize at the Vienna International Competition.
Ostap Shutko is the founder and 1st violin of the Ukrainian Quartet that took part in the international string quartet competitions in Evian and Reggio Emilia.
Ostap Shutko was the leader of the International Symphony Orchestra in Bayreuth and the London Philarmonic Symphony Youth Orchestra.
From 1993 plays in a duo with his mother, one of the most famous Ukrainian violinists, prize-winner of the international competitions,
Lidia Shutko
.
From 1999 - Assistant Professor at P. I. Tchaikovsky National Academy of Music.
2001 - Fine Arts Academy of Ukraine Award.
Concerts in England, Germany, Poland, Italy, Spain, France, Switzerland, Ukraine. Ostap Shutko has TV and Radio recordings.
information, photo from official site:
http://www.shutko.com.ua/