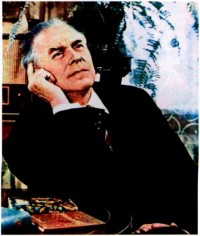 Pavlo Tychyna
(1891-1967) was a major Ukrainian poet, interpreter, publicist, public activist, academician, and statesman.
Born in Pisky in 1891. At first young Tychyna stadied at the district's elementary school that was recently opened in Pisky in 1897. In 1900 he became a member of an archiary chorus in the Trinity (Troitsky) monastery near Chernihiv. Simultaneously young Tychyna studied in the Chernihiv theological school.
In 1907-1913 Tychyna continued his education in the Chernihiv Theological Seminary. There he became friends with the future poet, Vasyl Ellan-Blakytnyi. He also met Mykhailo Kotsiubynsky who influenced greatly his early works. In 1912-1913 Tychyna's works get published in the various local publications. In 1913-1917 he was studying at the Economics department of the Kiev Commercial Institute which he did not finish. At the same time, he worked on the editorial boards of the Kiev newspaper "Rada" and the magazine "Svitlo" (1913–14). Later he worked as the assistant to chorus-meister in the Mykola Sadovsky theater.
In 1920 Pavlo became the member of "Pluh". After an immediate success with his poetry, in 1923 he moved to Kharkiv, entering the vibrant world of early post-Revolution Ukrainian literary organizations. In 1923 he joined the organization "Hart" after moving to Kharkiv and in 1927 the famed VAPLITE. In 1920s Tychyna was a member of Kharkiv city council as an independent. Controversies about the ideological tendencies of VAPLITE and the content of several of Tychnya's poems led to him being criticized for ideological reasons. As a response, Tychyna stopped to write and everybody assumed that it was the end to his writings. Later he became the member of "Chervonyi Shliakh", started to study Armenian, Georgian, and Turkic languages, became the activist of the Association of Eastern Studies in Kiev.
His initial work had strong connections to the symbolist literary movement, but his style transformed a number of times during his long career and frequently aped the acceptable socialist realism. His first works exploded onto the avant-garde Ukrainian scene with their colorful imagery and dynamic rhythms. However, as the Communist approach to artistic expression hardened and the role of a state-supported artist became more defined and restricted, Tychyna's poetry shifted rather dramatically, using clear pro-Communist political language, including a famous ode to Joseph Stalin. Tychyna was often criticized by Ukrainian exiles for the praising of Communism in his work and co-option by the regime, but recent scholarship has stressed his subtle distancing and mocking of Communist excesses and brutality through over-the-top suffusive praise.
Tychyna represents a complicated figure in both a political and academic sense. Many Ukrainian exile intellectuals and scholars involved in the analysis of Ukrainian literary history could not accept Tychnya's submission to political authority and apparent abandonment of many of his literary companions to the horrors of Stalinism. The true merit of his later poetry has been difficult to judge in such a bitter environment, which is only now relaxing. It also becomes difficult to determine Tychyna's true intent and emotions in such a repressive environment.
Tychyna's willingness to work with authorities, however, did not prevent Soviet authorities from forcing him to write a letter rejecting his candidature for a Nobel Prize, likely due to his Ukrainian heritage.
From
Wikipedia, the free encyclopedia
.
photo from:
http://shkola.ua/book/read/53/page95