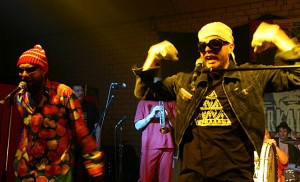 Andrew "Fedot" Fedotov - guitar, vocals
Yarema Stetsyk - bass, vocals
Serhiy Leonov - guitar
Sashko Synhayevsky - drums
Volodymyr Shoturma - dulcimer
Serhiy Shvayuk - trumpet
Orestes Hudyma - trombone
Igor Rymyk - percussion
Oleg MOKh Hnativ - Perkalaba management
Perkalaba group from Western Ukraine, playing gutzul-etno-ska music. Perkalaba started their career in the 1998, in Ivano-Frankivsk (Western Ukraine). At that time, Perkalaba was a ska - punk oriented band, with some influence of roots reggae playing in the underground club scene. Later the band became much more rooted in Ukrainian gutzul music. The History Begins... Perkalaba toured through all Ukraine, playing gigs in different clubs. In 2003 Perkalaba had concerts in Sopot (Poland), Zhdynia (Poland), Amsterdam and Berlin and festival "Ekotopy 2003"(Sheshory) Mazepa Fest 2004 (Poltava). Perkalaba named, in honor litlle gutzul village in Karpathian mountains,this place symbolized for musicians their Zion. Presently, they focused their music on what they call 'gutzul roots' Perkalaba are facing their new future today.. The group was Discovered in 'Rock Existenzia Festival in Kyiv(Ukraine). At the concert, it was obvious to experts that band with such a dynamic and energetic interplay between ansemble and audience, is true gem. The crowd loved Perkalaba regardlles of their ethnic identity. The music of Perkalaba is inspired by various ethnic music from around the world, especially from various regions of Ukraine, such Gutzul, Bukovyna and Zakarpattya. Other influences include the punk music of the late Shane McGowan, Element of Crime and by the reggae of such bands Bob Marley, Manu Chao, Skatalites. After the success of Goran Bregovic, Orchestra Bobana Markovica, No Smoking Orchestra by Emir Kusturica this is the Ukrainian answer...
information from official site: http://perkalaba.com.ua/
photo from: http://thekonst.net/ru/photoshow/378/8