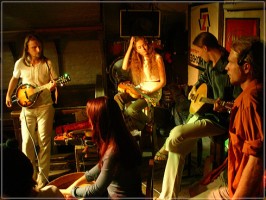 The band
RÚ
N (Rún – from Gaelic: secret, intention, motion (of a dialog); in the word-combination a rún – my love, my dear) was founded in 2001 as a result of its members' "Celtic mania" and their striving for creative activity. Since then we perform traditional music of Celtic peoples in the form it exists nowadays, focusing primarily on Irish music. We study the authentic performance manner and try to play our repertoire on traditional instruments. Beside frequent gigs played in their native Kiev, the band performed successfully in concert halls, pubs and clubs of many other Ukrainian cities, as well as in Moscow, St-Petersburg, Belgorod (Russia) and Minsk (Belarus). Throughout the band's existence, RÚN participated in numerous musical and historical festivals as well as in cultural and artistic events held both in Ukraine and in neighboring countries. The band's members met with authentic Irish music performers abroad and attended workshops on playing the traditional musical instruments. RÚN works in close cooperation with Kiev Irish and Scottish dance schools, organizes joint performances and folk dance master-classes. The latest large-scope event in the band's history was its solo concert in one of the largest halls in Kiev (The Cultural Center of Military Forces) on November 1, 2008. The concert, dedicated to the presentation of the band's latest album "Samhein", turned into an enchanting spectacle of music, dance and light. The band invited its best friends and colleagues to be its guests on stage. Moscow Celtic harpist Anastasia Papisova, "Shannon River" and "Unicorn" schools of Scottish and Irish dances, "Firedance" dancing studio and "Proty Nochi" ("Against the night") fire-show theater were among them. The band actively supports and implements live music performance traditions, so the visitors of Irish pubs in Kiev and other cities often have an opportunity to enjoy RÚN's gigs. For instance, the band became "permanent residents" of the oldest and the "Irishest" Kiev pub "O'Brian's". Beside that, the band promotes another Irish tradition, adopted in most countries, namely, holding Irish traditional music sessions. Every Sunday the session take place in the hospitable "Patrick" pub, gathering together the musicians from different cities and countries. Nature is the most "natural" inspiration source for playing such music. Fresh air, mountain landscapes and seashores bring peace of mind and always help to feel the roots. We can always take acoustic instruments with us and play them anywhere. We enjoy getaways far from urban environment and the music stays with us. The band is not indifferent to the environmental issues. We often play acoustic concerts, which do not involve electric power consumption. RÚN is a friend of ecological NGOs organizations and willingly participates in their actions.
The band recorded three albums:
Kid on the Mountain (2005), Over the Border (2006), Samhein (2008).
information from:
http://www.myspace.com/runkiev
official site:
www.run.in.ua