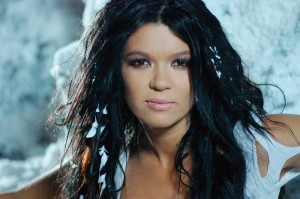 Ruslana
was born in L'viv, a regional center in Western Ukraine in 1973. She is a former Member of Parliament, singer, dancer, producer, composer, conductor, pianist and social activist. She has an established history of political engagement and involvement with numerous charitable organizations.
Ruslana started her career as a winner of Slavyanskiy Bazar song competition in Belarus in 1996. Her first album, "A Moment of Spring" received high praise from critics. Wider recognition came in 1998 with the song "Sunrise" and a new album. Her album "Wild Dances", issued in 2003 went 5 times platinum in Ukraine, selling over 500,000 copies. She was named the World's Best Selling Ukrainian Artist at the World Music Awards in Las Vegas in 2004. She also went on to win the 2004 Eurovision Song Contest in Istanbul, Turkey, with the song "Wild Dances" (from the album of the same title that went 5 times platinum in Ukraine)—making another appearance at the 2005 Contest in Kyiv, Ukraine, to perform her song "On Fire".
In 2004's disputed Ukrainian presidential elections, she declared her support for Viktor Yushchenko. She was one of the prominent figures that addressed the mass crowds rallying in Kyiv during the so-called Orange Revolution in support of Yushchenko's demand that his original defeat be declared fraudulent. In March 2006, she ran for and was elected to the Ukrainian Parliament as a member of the People's Union "Our Ukraine" (NSNU). On June 19, 2007, Ruslana resigned her post as a parliamentarian in the Ukrainian parliament.
Ruslana joined the campaign against human trafficking in 2005 through a meeting in Kyiv on July 5 of the same year. The meeting took place with Helga Konrad, the then OSCE special representative on combating trafficking in human beings, as part of the campaign "Human! Not for sale!".
Ruslana participated alongside Vital Voices leaders in a four-day meeting held in Kyiv, Ukraine, from October 14-18, 2007. She announced in the Vital Voices press conference that she would participate in a joint project which aims to raise awareness among young women to fight human trafficking in Eastern Europe and the former Soviet Union. She also unveiled part of her song "Not for Sale". She performed the complete song "Not for Sale" at the Vienna Forum to fight human trafficking on 15 February 2008.
Ruslana has also initiated a new concert show called Wild Energy. The show combines the art of music and video production, literature and social commitment and is dedicated to the idea of the independence of human feelings, rights, and freedoms. The show takes place in the context of an artificial city whose inhabitants are lacking their will for life and their energy of the heart—the fuel for people. Ruslana introduced a new single and video titled "Wild Energy", with all elements of Ruslana's show idea—books and comics, screenings, series of movie-videos, music albums, visual identity and fashion style, stunning show, multimedia products, and merchandise—being based on the fantasy novel by Maryna and Sergij Diachenko titled Wild Energy. Lana. Ruslana's new album Wild Energy is scheduled for international release in spring of 2008. The Ukrainian version of the album titled Amazonka was released in Ukraine in March.
information, photo from official site:
http://www.ruslana.ua/