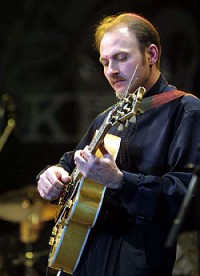 Sergey Kapeliushok
is a well-know guitarist, composer, arranger and teacher. He plays acoustic and electric guitar in different techniques. A side from that he is a teacher of guitar, innovative arranger, interesting composer, being competent in jazz harmony and virtuously playing guitar, he makes the instruments sound like a band.
Sergey was born 07.12.1963 in Ukraine, Donetsk. In the age of 11 he entered musical school (bayan class). After several years of study he entered the vocal group, studying guitar on his own. After he heard american guitar player George Benson he was carried away by jazz. Sergey decided to try himself in jazz and in 1989 he entered guitar class of jazz department in Rostov College of Arts (Russia). The principles of study (Berklee school) and intercourse with professional musicians and teachers influenced his jazz taste and development.
During this time the family jazz duet was created:
Olga Voichenko
(vocal) & Sergey Kapeliushok (guitar, vocal). In 1994-1995 this jazz tandem lived and worked in Poland in Warsaw. As a result the first an album "Tenderly" recorded at the "Dynasty" studio (Kiev) in 1999.
In 1999 Sergey became a student of the music department at the Kiev National University of Culture and Arts in the guitar class. He took part in the many different festivals and projects, had a concert tour round Finland (1999,2000), Austria (2006), Poland (2001, 2005), Germany (1998), Russia (2000, 2005), Serbia (2009)... Since 2004 Sergey has been teaching at the Kiev National University of Culture and Arts at the department of instrumental music on the class of guitar and ensemble. In 2006 new album "Magic dreams" was released. The compositions are written in a co-operation with the well-known musicians of Ukraine, Russia and France. In 2007 Sergey participated in the prestige European international festival "JAZZ JAMBOREE" (Warsaw, Poland). Now Sergey lives in Kiev.
information, photo from:
http://www.myspace.com/sergeykapeliushok