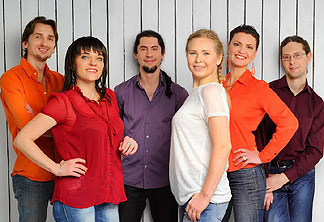 Shopping Hour is international project by Tanya Sha from Aby MC group.
The Ukrainian lounge is living and the Ukrainian women are not the last to have concern with it.

The album "Shopping Hour. The Worldest Music" recently completed at the "Kofein" studio evidences it. The main conception of the album belongs to the composer and arranger Tania "Sha" Shamshetdinova, she also became a musical producer of the project.
"The idea to create an hour-long album of pleasant music didn't occur at once.
At first some tracks combining the Eastern and the Western, the ancient and the modern were being gathered. Then there appeared the name – "Shopping Hour" – the hour to spend on shopping. As a real formalist, I had to make it precisely a one – hour – long – album, of course. The album may be used instead of a watch now. There are also no pauses in the album, by the way. Every single track is being combined with the next one through various city noises – lorry din, police sirens wail out or underground whirr, for example. There is also a composition where we used recordings from one of the American airplane's "black box".
The album's slogan – "The worldest music" – is 100% sized up by the album's music. There are Arabian and Far East percussions, an Armenian duduk, an Irani gheychak, Ukrainian telynka and sopilka are also to be heard in the album, as well as 8 languages, among which there are Turkish, Malagasy and Hindi to be found.
The album contains Serbian, Macedonian and Ukrainian folk songs.
The work on the album lasted over 2 years. The main operations – assemblage, mixing– were conducted in Kiev by sound engineers Yuriy Akop and Andriy Makarenko. The gheychak, however, was recorded at the "Aftabe Alamtab Studio" in Tehran.
Generally, there are over 20 creative personalities to take part in the album compiling, among them are well-known Kiev musicians: singers Olga Neka and Olena Lvova, a pianist Pavlo Stolbov, a drummer Olexander Beregovsky, a trumpeter Petro "Petruccio" Yakovchenko, saxophonist and clarinettist Igor Chernov, a duduk-player Armen Kostandyan, a guitarist Gennadiy Sidorov. Special guests of the project – Svet (vocal), Dimitriy (rap), Reza Abai (gheychak) and Ruslan Pashins'kyy (telynka).

page: http://www.kofeinstudio.com.ua/
official site: http://shoppinghour.com.ua/
for concerts organisation, contact: Stavanna@yandex.ua, tanyakofein@gmail.com, +380 66 240-89-35, +380 68 126-67-56
LJ: http://community.livejournal.com/shopping_hour/