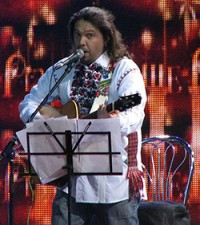 Taras Hryhorovych Chubay (Ukrainian: Òàðàñ Ãðèãîðîâè÷ ×óáàé), (born in June 21, 1970, in Lviv) is a Ukrainian musician and poet. He is the son of the poet Hryhoriy Chubay.
Taras Chubay founded the Plach Yeremiji rock band in February, 1990. The songs of Chubay and his band are usually serious, philosophical poems accompanied by rock. The music sounds hard, then changes to an easy ballad, and again explodes, overfilled by emotions.
The musician has created more than 100 songs and one overture for an orchestra. He is also known for his active social position, taking part in democratic and pro-European movement gatherings. The old UPA song Lenta za Lentoyu performed by Chubay had become a hit at events organized by the "orange forces" and was performed at the meetings of Narodna Samooborona Movement.
In 2006, the rock band Plach Yeremiji and its frontman took part in the "Concert for Angels" devoted to the memory of Kiev students killed during the Battle of Kruty.
Many songs of Taras Chubay are dedicated to the Ukrainian Insurgent Army.
information from Wikipedia, the free encyclopedia
photo from: http://community.livejournal.com/plach_jeremiyi