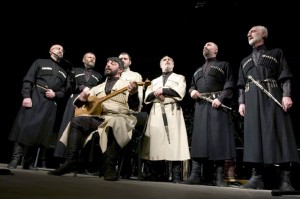 The unique traditions of polyphonic singing in Georgia began before Christianity, but were incorporated into church worship during the early Middle Ages. Choral singing flourished in the remote mountain monasteries. The
Anchiskhati Choir
has researched the age-old carols and hymns that celebrated Easter, Christmas and Harvest festivals and has recorded them with a "glorious exuberance and spirituality".
The secular music is equally remarkable. These folk songs celebrate every aspect of village life - hunting, feasting, courtship, marriage, funerals and lullabies. They are performed within an unfamiliar but haunting harmonic mode, and demand exotic vocal techniques, such as Krimanchuli, a kind of yodelling, from Western Georgia.
The members of the Anchiskhati Choir come from different regions of Georgia and have absorbed the traditions of this unique musical sound world from their parents and grandparents, as well as from listening to the singing in the villages. But they are all expert musicians and passionate ethno-musicologists, who teach, hold workshops and regularly perform at the 6th Century Anchiskhati Church in Tbilisi, Georgia.
information from official site:
http://www.anchiskhati.org/
photo (by Yevhen Rakhno) from:
http://www.gogolfest.org.ua/ukr1/info/music/sheshory