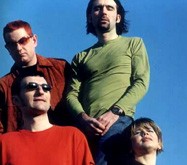 The band
U.RA
(ex
DAT
) released "Radio Dreams" album in June, 2006.
U.RA
was proclaimed to be future Ukrainian Cranberries. It's one of the few bands in Ukraine that played the alternative rock with ethnic elements. It was founded by Oleksandr Osadchiy, Lyudmila Orlenko and Oleg Yashnyk in 1997 in the town called SMILA (Cherkasy region). Due to the original music and vocal of Lyudmila Orlenko, in the same year DAT gets the first prize as rock band on one of the biggest festival in Ukraine "Chervona Ruta" (Kharkiv). The next year (1998) band won the first prize at "Future of Ukraine" (Maybutne Ukrainy) (L'viv) under aegis of "Tavria games". The success brings DAT members to the studio where they record the first album called "Zhalo (Sting)", this album is released in 1999. The music included in this album show the best traditions introduced by the band.
But (like Irish "Cranberries") DAT band broke up.
But in the beginning of 2004 vocalist and drummer of ex. DAT decided to write the new history.
Oleksandr contributed the music. Lyuda contributed the lyrics and took her old nick name
U.RA
(the last syllable stressed – like in
VV
song about Gagarin). That's how people called her because of Lyuda's fascination with space. Brief and precise nick was used as the name for the new project.
U.RA
style was the mixture of music preferencies. The aim was to realize the music ideas in broader way using the original mix of music and voice in ethnic aspect Guitar lounge style is canvassed by the vocal experiments.
Musicians who took part in record process were all friends. Picking up the active members of the griup was finalized after the first rehearsal; Sashko and Lyuda decided that
Oleh Tatarchuk
is the very bass player that they need.
To find a good guitar player was harder. During the four month it was more than a dozen of musicians who visited auditions, but without resulsts. The only worthy person was
Volodymyr Shabaltas
from the Kharkiv jazz band
Skhid-Side
.
After the several rehearsals
U.RA
play their songs in the club of Kyiv. They also start another studio sessions and at the same time they get the invitation from M1 music channel to participate in new project "SVIZHA KROV" (Fresh Blood).
One of the members of the "SVIZHA KROV" judging panel, that was present during the programme featuring
U.RA
, was record company director Oleg Dolinsky. The band performance was so impressive that the signing of the record agreement was practically immediate.
Oleg Dolinsky says: "As for me, it's most professional band that featured in the "SVIZHA KROV" project. The band has its own face, has its own musical hand, that makes people to remember their music".
information from:
http://www.compmusic.kiev.ua/
photo from:
http://music.com.ua/news/rock/2002/05/04/2859.html