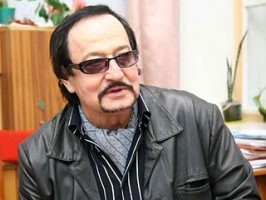 "He who follows the star never comes back"
He is the cult Ukrainian writer and an unordinary person. Among friends and in the far-away countries where his life brings him, he is known as Pako. And although he has already long been Yuri Volodymyrovych Pokalchuk – known and respected, a man of significance – the agile character and extraordinary energy mould a legendary personality.
Background:
Yurko Pokalchuk is a writer, translator, candidate of philology. From 1976 – a member of the Union of Writers of Ukraine. From 1994 till 1998 – the chairman of the foreign section of the Union of Writers of Ukraine. 1997-2000 – the President of the Association of Ukrainian Writers. 2000-2002 – a member of the National Council of Television and Radio Broadcasting. He has more than 600 publications in the press, he translated Hemingway, Salinger, Borges, Cortazar, Amado, Mario Vargas Llosa, Kipling, Rimbaud and many others, he wrote 20 fiction books. He is fluent in Polish, English, Spanish, French. He delivers lectures in England, the USA, Canada, Argentina, Brazil, Portugal, Spain, Poland, Russia.
Moreover, Yurko Pokalchuk writes wonderful novels with erotic motives (thus there is a tint of a scandal in his popularity), he recites his poems with the accompaniment of his original music group VVM – Vogni Velykogo Mista (City Lights), they have recorded several albums, have held a great number of successful concerts.

...Everybody knows that Pako lives "in three homes" – in Kyiv, Lviv and Paris. Finding him is not easy. He always follows his star. And his path is endless, and there are innumerable stars in the sky..
information, photo from:
http://rus.newsru.ua/pict/big/100774.html