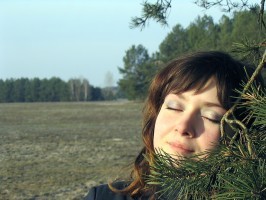 Zavoloka
is an electronic music composer and graphic designer from Kyiv city, Ukraine. Zavoloka mainly explores digital synthesis, sometimes she uses recorded herself songs, separate phrases, words, instruments, etc. One of her big influences is the traditional Ukrainian culture. She traveling by Ukraine and recording native traditional ethnic folk songs, which singing old people in country-sides of Ukraine. But nevertheless it's not about world-music. The aim is to reach interplay between the electronic context and rough unprocessed voices that common people sing with. This produces a very 'human' outcome (owing to the spirit that unaffected voices bring), yet staying electronically saturated, post-sounding and edgy. Zavoloka's music consists of intensive varied sound motions and unexpected combinations piped into carefully controlled electronic flows. Never try to predict anything, it can turn out in what one just cannot predict. Some of Zavoloka's friends amongst musicians admit, that her music is very unusual from the structural point of view. When asked about the motive of building such a diverse and complicated constructions, she explained her intention to produce more and more frank music that could reflect her momentary shades of feelings and emotions. She also pointed out that her music is intended to be a natural expression of her private freedom.
Zavoloka's CD album "Plavyna" 2005 was Honorary Mentioned with Prix Ars Electronica 2005.
Zavoloka collaborates with:
- AGF a.k.a Antye Greie-Fuchs (Germany). Berlin based poetess and musician, they finished full collaboration album "Nature never produces the same beat twice" CD on Nexsound.

-
KOTRA
  a.k.a Dmytro Fedorenko
(Ukraine), on Kvitnu label they released "Wag the Swing" CD album, on Nexsound label – CD Zavoloka vs Kotra "To kill the tiny groovy cat".
- MARK CLIFFORD from SEEFEEL, DISJESTA (United Kingdom) now they released split CD "SPLIT01" on Polyfusia records
- KATYA CHILLY (Ukraine) – talented ukrainian singer.
- Videoartists like: IrMir a.k.a Iryna Miroshnikova (Ukraine), PDTA (Ukraine), Bianco-Valente (Italy), Tobias Leira (Norway).
Zavoloka participates in different projects like :
- international art project "Move" with contemporary dancers: Charlotta Ruth (Sweden), Alexandr Andriyashkin (Russia), musician/designer Johannes Burstrom (Sweden), and light designer/videoartist Tobias Leira (Norway).
- ukrainian-swedish project "Ukraina-Sverige 4-4" in collaboration with musician Anders Dahl (Sweden, Hapna label).
photo from official site: http://www.zavoloka.com/