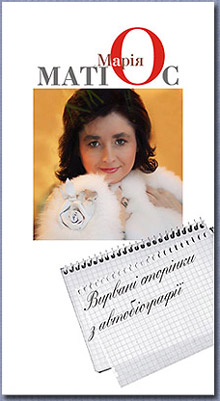 "The real time flowing through living human fates, and real people flowing through the fluid time – these are the key motives of the new book by the most popular Ukrainian writer Maria Matios. A digest of a book "inhabited" by lots of known and unknown people and events, which create the historical, psychological, ideological, cultural and household mosaics of the Ukrainian life on the verge of the 20
th
and the 21
st
centuries. It is not by chance that the writer herself refers to "The Torn Out Pages..." as "not just an autobiography, but a hundred-percent book about the contemporary and contemporaries"...
In Ukrainian.
Type of the edition: soft cover
Format: 140x262 mm
Number of pages: 368
Publisher: Piramida, Lviv
Contents:
Zamist' prolohu
"Marichko, vernit'sja!"
Ne zabyrayte etu bol'
Ubyte zlo
Jak nas berut' na viyny
Skriz' buv boh
Moja solodka Bukovyna
Ja saper, a ne miner istoriji
Roztoky
Moji vchyteli
Moja persha vchytel'ka
Moja familija
Vesillja mojikh didiv
Moji bat'ky
- Tato
- Mama
- Tato
- Bat'ky i dity
- Zhyttja skladajet'sja z detaley
- Oda
A tse nazyvajet'sja dolja
Na tatoviy otechchyni
- Grun' Jakoviychukove v konteksti suchasnosti
- Vodiy dlja prezydenta
- Vashyljuk
- Nishcho ne je vypadkovym
Roztoky: myr, viyna. I ljudy
Rika ostann'oji daraby
...chy slovo obyraje tebe?
"...i vyhnannja jikh iz sil"
Chom? Chom! Chom... Zemle! Moja?!
- Zamist' epilohu
- Gazdy
- Zemlja – zavzhdy boyovyshche
- ...I trokhy beletrystyky
- Daju vam pole... konja... i dobru sovist'
- "...I domashni rechi – 1489 shtuk"
- "Ja ne vynen, shcho vlada ljubyt' khodyty na kryvykh nohakh"
- Did... babka... titka... i vsi Roztoky
- Kazhit' meni, jak budemo zhyty dali?!
- "Neljuba ty meni?.."
Moji pershi zarobitky
6 hodyn do mavzoleju
Iz students'kykh rokiv
Nashi spil'ni universytety
Shche pro moje studentstvo i ne til'ky
Ivasyuky
- "Ja yoho mama..."
- Ljustratsija sovisti
- ...Samymy matjukamy (Mykhaylo Ivasyuk)
Iz zapysiv riznykh rokiv
- Rasskaz yz zhyzny heroja Ukrayny
- Tsenzura
- Seminarija
- Serhiy Jesenin. Konstantinovo
- Jepyskop na kolinakh
- Krujiz krajinamy Chornoho morja
- Monashky z Mukachivs'koho monastyrja
- Klub tvorchoji intelihentsiji
Kyjiv: Pid dakhom tr'okh Tjutjunnykiv i Lukasha
Musyv buty i Dzjuba, musyv buty i Stus
Suvorova, 3
Zhizel' zi shvabroju
Konspekt dokumental'noji povisti-dylohiji
Jevhen Marchuk: "Polityky nikoly ne vyperedzhaly poetiv i myslyteliv"
Chotyry prezydenty Ukrajiny
- Leonid Kuchma
- Viktor Jushchenko
- Revers 2006 roku
- Viktor Janukovych
Ivan Dzjuba z Donbasu
Nepot'mjanile pero z biloho ptakha (Bohdan Stupka)
Pavlo Zahrebel'nyy: pro "Solodku Darusju"
Ivan Zvychok. Spravzhniy i vyhadanyy
Iz promovy pislja prem'jery vystavy "Solodka Darusja" na stolychniy stseni teatru im. I. Franka
Mozhe, to miy djad'ko konfetku Darusi dav
Hutsul-snayper na prizvyshche Ivanov
Lyst do redaktsiji hazety "Sil's'ki visti" 2001 roku
Koly Napoleon okupuvav Viden'
Vasyl' Kozheljanko
Marija Matios: "Zhyttja korotke, shchob kazaty "ni" – sovisti i strazhdannju"
Dmytro Tabachnyk
Volodymyr Javorivs'kyy
Dereva zhyttja i pam'jatnyky smerti
- Park barona Vasyl'ka
Kaminni hospodari Avstriji, Rumuniji i reshty
Ukrajina vid lukavoho
- Ukrajina bezdumna
- Ukrajina dekoratyvna
- Ukrajina demontovana
- Ukrajina nebezpechna
- Ukrajina peredvyborna
Jak vypovnyt'sja Vam 80 rokiv
Iz zapysiv "Serdechnoji ljutosti"
Avtointerpretatsija
Poky je ti, chyje zhyttja vyprobovujet'sja sertsem i chestju, ja ne vtomljusja pro nykh pysaty
1. Uspikh – tse tryvalist' u chasi y Pratsja
2. Svojim pys'mom ja ne maju prava zashkodyty
3. Ja ta, shcho rozmotuje bynty z oblychchja mynuloho
4. Jakshcho je na sviti bezodni – khtos' maje pobuvaty na jikhn'omu dni
5. Zaraz duzhe vyhidnyy chas dlja viyny, a ne dlja osvity
6. Ljubov – tse vidvaha
Tezy (do vystupu na prezentatsiji knyzhky "Natsyja" i "Darusja sladkaja" u Moskvi, lystopad 2007 roku)
Ta ne odnakovo meni
I vse-taky – ne navpaky
Zamist' epilohu