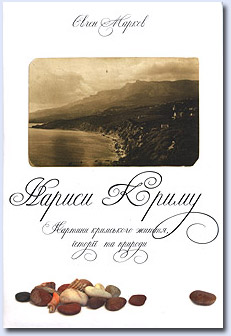 "The book by Evgen Markov was published for the first time in 1872, survived several re-editions and became extraordinarily popular even during the author's lifetime. It is travel notes of an unbiased witness who aims to convey to us not only impressions from what he saw in the Crimea of the mid-19
th
century, but also the feelings of historical presence in this territory of the centuries-old culture of the Mediterranean. First, the reader together with the author will pass along the Ukraine of that time and will through the eyes of the impartial Russian glance at the Ukrainian rural life, and then – the romantic and enigmatic Crimea, the eternal mixture of cultures – the antique, Byzantine, Tatar, Turkish, Slavic... And all this is illuminated with the high white sun, washed by salt Black Sea water, filled with aromas of cypresses and lavender...
The book offered – the first edition of the "Crimea Essays" in Ukrainian - will be of interest for all those not indifferent to history of Ukraine and the Crimea."
Artistic edition.
In Ukrainian.
Type of the edition: hard cover
Format: 170x240 mm
Number of pages: 584, illustrations
Publisher: Tempora, Kyiv
Contents:
- Kil'ka sliv do ukrajins'koho vydannja
- Kil'ka vstupnykh sliv do pershoho vydannja
- Peredmova do druhoho vydannja
- Z pryvodu novoho vydannja "Narysiv Krymu"
NARYSY KRYMU
1. Po dorozi do Krymu
2. Persha zustrich iz Krymom
3. Stolytsja Hirejiv
4. Mertve misto
5. Tini Malakhova-Kurhanu
6. Sumne mynule
7. Trakheys'ki svjatyni
8. Inkerman
9. Pustelja i more
10. Pokhid na Kastel'
11. V horakh i lisakh
12. Pechery Chatyrdahu
13. Nich u khmarakh
14. Starozhytnosti Surozha
15. Blahodijannja khrystyjans'koji tsyvilizatsiji nevirnomu tatarynu
16. Pivdennyy bereh
PEChERNI MISTA KRYMU
1. Drevnja stolytsja hotiv
2. Vid Cherkes-Kermena do Chufuta
3. Podal'sha podorozh do ostann'oho pechernoho kryms'koho mista
4. Zvorotniy shljakh i novi vrazhennja
Z PIVDENNOHO BEREHA (dorozhni lysty)