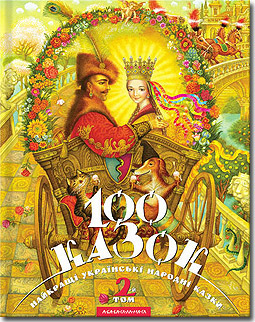 "Here is, dear kids, the second volume of "100 Fairy-Tales". And with it – a piece of news: soon we hope to prepare the third volume as well. And already then this will already be actually ONE HUNDRED FAIRY-TALES. Thus, all of our 100 FAIRY-TALES will be offered to you in three volumes.
Remember – the first book "100 Fairy-Tales" began with "Ryaba Hen" and ended with "Raytse Egg", and all final pictures also had the form of an egg. The second volume begins with the fairy-tale "Kolobok" ("Hare's Porridge" is, probably, a sort of a "fairy-tale rhyme") and ends with "Kotygoroshko", i.e. it starts and it ends with something round. And, consequently, it is no surprise that eventual pictures are in the form of a circle. It will be even more interesting further. Therefore, till the next meeting for the third volume!"
(information provided by the publisher)
Awards: The best book for children of the year (the National Contest "Book of the Year 2008")
In Ukrainian.
Illustrations: Vladyslav Yerko, Kost Lavro, Kateryna Shtanko, Viktoria Palchun, Innokentiy Korshunov, Ivetta Klyuchkovs'ka
Compiler: Ivan Malkovych
Age group: for little ones from 2 to 102
Edition type: premium, colored, hard cover
Format: 240x305 mm
Number of pages: 128
Publisher: A-BA-BA-HA-LA-MA-HA, Kyiv
Contents:
Vid uporjadnyka
- Zaychykova kashka
- Kolobok
- Pivnyk i kurochka
- Kobyljacha holova
- Zajets' ta jizhak
- Koza-dereza
- Pro bidnoho parubka y tsarivnu
- Tsap ta baran
- Petro i mech-hartovanets'
- Jak riznyk tsvirin'kav
- Lehin', shcho povernuv ljudjam sontse, misjats' i zori
- Mudra divchyna
- Rak-neborak ta yoho virna druzhyna
- Ivan-Pobyvan
- Torba z korolem
- Letjuchyy korabel'
- Charivne hornjatko
- Jak Ivan tsarja perebrekhav
- Knjazivna-zhaba
- Jak lysychka leva oduryla
- Kazka pro lypku i zazherlyvu babu
- Zolotyy chervinets'
- Ivan Holyk ta yoho brat
- Kalytochka
- Pro Nevmyraku
- Khlopchykova molytva
- Kotyhoroshko