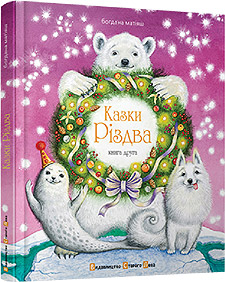 "Christmas is time full of mysteries, joy, and wonder. Tales of Christmas remind us of the meaning of this holiday – the miraculous birth of God, full of confidence and affection – and we can also, enchanted, linger in the face of this mystery, stay young children for a while, with their faith and innocence, to greet the newborn Messiah. To experience a number of wonders, which happen when we believe.
The second volume of Christmas tales by Bohdana Matiyash is full of peace and serenity, it teaches us how to feel gratitude in the world that is the birthplace of the kind God."
You can look
through some of the artwork here:
http://umka.com/eng/news/
In Ukrainian
.
Illustrations: Volodymyr Shtanko
Edition type: hard cover
Format: 206x240 mm
Number of pages: 80, illustrated
Publisher: Vydavnytstvo Staroho Leva, Lviv

Contents
:
1. Eva i bilosnizhna kvitka liliji
2. Kazka pro Biloho Psa
3. Zirka i Visljuchok
4. Zolotovoloska i chervonyy mak
5. Lahidnyy mudrets'
6. Kazka pro Nizhnist'