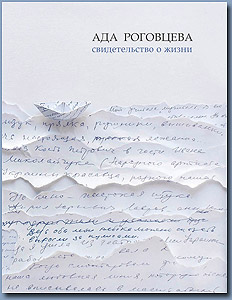 "I have always been surrounded by extraordinary people Ц from infancy, from very childhood, Ц Ada Rogovtseva says, Ц During my life, I have accumulated so many various stories that I felt the needed to decipher my diaries and to share them with people. I start from the beginning, from what I remember as my very first impression". In this book, Ada Rogovtseva mentions, among others, the famous actors Viktor Khalatov, Mykhailo Romanov, Oleg Borisov, Pavlo Luspyekayev,
Bohdan Stupka
and others. "The result is a sort of an amateurish attempt at "monism", Ц Ada Rogovtseva assesses her work, Ц This is the genre that allows one to search for the poetry of life hidden in historical portraits and situations".
Apart from the reminiscences, the book includes photographs from the home archive. Ada Rogovtseva mostly wrote her memoirs in Russian, but the book contains a powerful Ukrainian-language section related to the actress' work with the national material, as well as to her neighbors and everyday life of the village of Zherebyatyn close to Boryspil."
In Russian and Ukrainian
.
Type of the edition: hard cover
Format: 170x214 mm
Number of pages: 336, illustrated
Publisher: Meridian Czernowitz, Chernivtsi