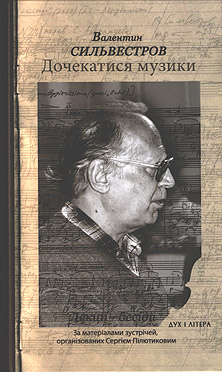 "This book is a meeting with the world of music and thought by Valentyn Silvestrov, one of those composers who defined the trends of the world music's development on the verge of the centuries. The book is based on public speeches by the composer at meetings organized in Kyiv in 2007. Valentyn Silvestrov tells about the pieces that he had been creating during more than forty years, as well as answers various, sometimes provocative questions of the anchorman (Kyiv composer S. Pilyutikov) and other participants of the meetings.
The book will be interesting both for professional musicians and all those who love classic music. The publication is accompanied with a DVD-R with audio recordings of the main pieces by the composer."
In Ukrainian.
Type of the edition: hard cover
Format: 140x234 mm
Number of pages: 376
Publisher: DUH I LITERA, Kyiv
Contents:
- Peredmova
1. Shljakh
2. Avanhardnyy period
3. Moduljatsija
4. Mova muzyky
5. Poezija ta muzyka
6. Zanurennja
7. Tekst, jakyy pam'jataje sam sebe
8. Melodiji – podjaky
9. Symfonija – pidsumok
10. Shchob muzyka bula ne vyhadanoju, a pochutoju
11. Rozzbrojennja
12. Prodovzhennja avanhardu zi zvorotnoho boku Misjatsja
13. "Dochekatysja muzyky": iz rozmov u vydavnytstvi "DUKh i LITERA"
- Predmetnyy pokazhchyk
- Imennyy pokazhchyk
- Tvory V.V. Syl'vestrova, zapysani na dysku
- V.S. Brjukhovets'kyy. PISLJaMOVA