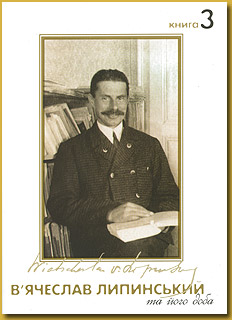 "The book finalizes publication of the text of V.Lypynsky's monograph "Ukraine at the Verge" and continues publishing sections of his political treatise "Letters to Fellow Grain-Growers", which are the culmination of the Ukrainian conservative thought and the statehood school of historiography. The book contains correspondence between V.Lypynsky and the famous Ukrainian public and political activist Ye.Chykalenko. The reader will also be introduced to works by contemporary authors analyzing scholar and epistolary heritage of the Ukrainian thinker.
Attachments include photographs from the collections of the Ukrainian Free Academy of Sciences in the U.S., the archive of the Eastern European Research Institute named after V.K.Lypynsky in Philadelphia (U.S.) and the Central State Archive of the Museum of Literature and Arts of Ukraine.
The publication is intended for historians, political scientists, and all those interested in the history of Ukraine."
In Ukrainian.
Type of the edition: soft cover
Format: 168x240 mm
Number of pages: 796, illustrated publication
Publisher: Tempora, Kyiv
Contents:
- Juriy Tereshchenko. Do chytacha
Rozdil 1. TVORChA SPADShchYNA V'JaChESLAVA LYPYNS'KOHO
- Juriy Tereshchenko. Problema jevropejizatsiji kozats'koji derzhavnosti v "Ukrajini na perelomi" V'jacheslava Lypyns'koho
- V'jacheslav Lypyns'ky. Ukrajina na perelomi. Rozdily VII-VIII, prymitky
- V'jacheslav Lypyns'ky. Lysty do brativ-khliborobiv (chastyna III)
- V'jacheslav Lypyns'ky. Danylo Bratkovs'kyy – suspil'nyy dijach i pys'mennyk kintsja XVII stolittja
- V'jacheslav Lypyns'ky. Heneral artyleriji v.k. Rus'koho (z arkhiva Nemyrychiv)
- V'jacheslav Lypyns'ky. Arijans'kyy soymyk v Kyselyni na Volyni v maju 1638 r. (Prychynok do istoriji arianstva v Ukrajini)
Rozdil 2. DOBA V'JaChESLAVA LYPYNS'KOHO
- Natalija Polons'ka-Vasylenko. Z molodykh rokiv V'jacheslava Lypyns'koho
- Svitozar Drahomanov. Spohady pro V'jacheslava Lypyns'koho
- Dmytro Doroshenko. Z pered trydtsjaty lit (Do istoriji zasnuvannja "Przegladu Krajowego" v Kyjevi)
- Bohdan Lepkyy. Moja persha zustrich z Lypyns'kym
- Roman Metyk. Moje znakomstvo i perepyska z V.K.Lypyns'kym
- Mykola Bazilevs'ky. V'jacheslav Lypyns'kyy: Iz tsyklju "Na hrani dvokh epokh"
- Lev-Rostyslav Lepky. Deshcho z prychynkiv do biohrafiji V'jacheslava Lypyns'koho
Rozdil 3. EPISTOLJaRNA SPADShchYNA V'JaChESLAVA LYPYNS'KOHO
- Tetjana Ostashko. V'jacheslav Lypyns'kyy i Jevhen Chykalenko: dialoh pro maybutnje Ukrajiny
- Lysty V'jacheslava Lypyns'koho do Jevhena Chykalenka ¹¹1-72
- Lysty Jevhena Chykalenka do V'jacheslava Lypyns'koho ¹¹73-182
- Prymitky
- Imennyy pokazhchyk
- FOTODODATOK