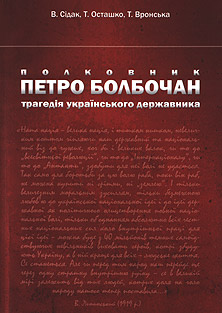 "The book tells us about the life and career of the prominent Ukrainian commander, the UPR Army Colonel Petro Bolbochan. His fate reflected the extraordinary drama that accompanied the state-formation process in Ukraine in 1917-1921, in particular military development. The documentary materials contained in the work offered will contribute into deepening our knowledge about one of the brightest figures of the national liberation movement representing the urge of Ukrainians to creating their own state.
For the first time materials of the court and investigation case of P. Bolbochan, his letters to the UPR Directory leaders, excerpts from memoirs of contemporaries are published.
The book is intended for anyone interested in the national history."
Authors: V.Sidak, T.Ostashko, T.Vronska.
Research publication.
In Ukrainian.
Type of the edition: soft
Format: 170x238 mm
Number of pages: 426, illustrated edition
Publisher: Tempora, Kyiv
Contents:
ChASTYNA I.
1. Peredmova
2. Fakty biohrafiji
3. U dobu Tsentral'noji Rady
4. Kryms'ka operatsija
5. Za chasiv het'manuvannja Pavla Skoropads'koho
6. Komanduvach Livoberezhnoho frontu
7. Polkovnyk P. Bolbochan i lidery Dyrektoriji UNR
8. Pershyy aresht
9. Na vyhnanni
10. Suspil'no-politychna sytuatsija v krajini
11. Na perekhresti
12. P. Bolbochan i derzhavnyy inspektor M. Havryshko
13. Druhyy aresht
14. Sud nad polkovnykom P. Bolbochanom
15. Ostanniy akt trahediji polkovnyka P. Bolbochana
16. Vykonannja vyroku
17. Prodovzhennja slidstva
18. Vidlunnja spravy P. Bolbochana
ChASTYNA II. Dokumenty i materialy
- Dokument ¹1. Posluzhnyy spysok i nahorodnyy lyst kapitana Petra Bolbochana. Lystopad 1917r.
- Dokument ¹2. Rozmova Holovnoho otamana S. Petljury z otamanom P. Bolbochanom po telehrafu. 0 hrudnja 1918r.
(...)
- Dokument ¹65. Uryvok z lysta sotnyka I. Baryla do henerala M. Omeljanovycha-Pavlenka. 12 serpnja 1934r.
Prymitky
Imennyy pokazhchyk
Dodatky