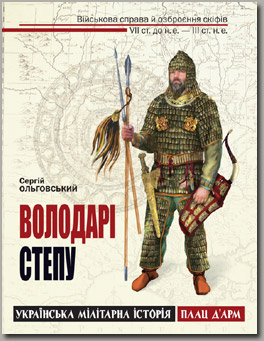 "The book is dedicated to one of the most interesting pages of the ancient history of Ukraine – domination of Scythians in Black Sea steppes. The author outlines in a popular form the history of Scythians' emergence on the northern Black Sea coast, the course of the Scythian-Persian War, the bloom of Scythia, and peculiar features of the Scythian art of war. The book is richly illustrated and accompanied with reconstructions of Scythian armor and weapons in color.
The publication is intended for anyone interested in the history of Ukraine."
Research and popular publication.
In Ukrainian.
Type of the edition: paperback
Format: 200x260 mm
Number of pages: 128, illustrated edition
Publisher: Information-analytical agency "Our Time", Kyiv
Contents:
- Zamist' peredmovy
1. Ranniy zaliznyy vik – doba viys'kovoji demokratiji
2. Pojavua skifiv
3. Skifo-persyds'ka viyna
4. Velyka Skifija Ateja
5. Pizn'oskifs'ke tsarstvo v Krymu
6. Viys'kovi zvychaji skifiv
7. Ozbrojennja skifiv:
- Luk i strily
- Zakhysnyy obladunok
- Kins'ki prykrasy ta obladunok
- Nastupal'na zbroja
8. Pisljamova
- Kol'orovi iljustratsiji
- Vykorystana literatura