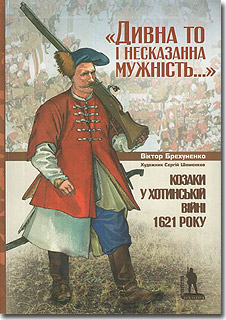 "The book is dedicated to a glorious page of the Ukrainian arms – the prominent role of Ukrainian Cossacks in Khotyn war of 1621, when they became the key contributors into the victory over the Turkish army of Osman III. The author highlights the causes of the war between Rzeczpospolita and the Ottoman Empire, the impact of Cossack naval campaigns against military and political plans of Turkey, participation of Zaporizhzhya army led by Hetman Petro Sahaidachny in the military actions near Khotyn, the course of the war at sea. The numerous facts illustrate Cossacks' outstanding contribution into the victory over the Turkish army.
For anyone interested in the Ukrainian history."
Popular and research publication.
In Ukrainian
.
Type of the edition: paperback
Format: 168x238 mm
Number of pages: 120, illustrated publication
Publisher: Tempora, Kyiv
Contents
:
- Perednje slovo
1. Pidvodni kameni Khotyns'koji viyny:
- Protystojannja za Stepovyy Kordon Jevropy
- Dolja Moldovy, Valakhiji i Transil'vaniji
- Stratehiji Rechi Pospolytoji ta Osmans'koji imperiji na Stepovomu Kordoni
2. Vyzrivannja viyny:
- Vtruchannja Rechi Pospolytoji v avstriys'ki y transil'vans'ki spravy
- Kozats'ke pytannja
- Motyvy protystojannja kozakiv z musul'mans'kymy susidamy
- Narostannja napruhy
3. Provisnyky viyny:
- Tsetsors'ka bytva
- Vid Tsetsory do Khotyna
- Stratehiji Viys'ka Zaporiz'koho
4. Potuhy storin:
- Koronne viys'ko
- Kozats'ke viys'ko
- Turets'ke viys'ko
5. Viyna pid Khotynom:
- Kozats'ki Fermopily
- Nayzapeklishi boji
- Pozytsiyna viyna
- Mors'ki pokhody naperedodni ta pid chas Khotyns'koji viyny
- Porazka turets'koho viys'ka
6. "Jakby ne bulo kozakiv, Boh odyn znaje...": vnesok Viys'ka Zaporiz'koho u peremohu
- Vybrani dzherela ta literatura