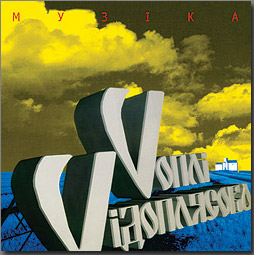 German pressing
(Schallplattenfabrik Pallas GmbH), heavy black 180gr vinyl, HQ Audiophile LP. The first official studio album by "VV" (1997) contains the hits "Vesna", "Muzika", "Yura", "Hey! Lyubo!", "Horila sosna".
Limited edition! 150 copies.
"The album "Muzika" is something considerably more than just a music product or some high-quality goods. This is an idea, embodiment, revolution, hope, and joy, and a thousand of things in one. So that all that did not look too passionate, I will explain, or, maybe, remind. First, the song "Vesna", and afterwards the whole album of "Muzika", created a real revolution in 1997 – millions and millions of people began to very loudly listen to Ukrainian rock music. And, maybe, even more of them. And that is only in Ukraine, but let us not forget about neighboring states, as a minimum. That year I moved to a very Russian-speaking Ukrainian city – and virtually the only Ukrainian songs that I could hear there were songs from "Muzika", and I heard them at every step. It seemed that from "Vesna", "Yura", "Glybyna", "Harmonia", "Hey! Lyubo!" blood boiled then with absolutely everyone, regardless of their usual music tastes. But not only then, I right now cannot sit quietly when listen – you do not even need to remember how it was. This music is so live that it tears not only the roof but also the walls, and your eyes still do hear something, and the wind takes away the clothes of your nonsense – strange, but nice. And thus you lie now naked and sober, as a log, and above you there is the sky – and there is no edge to it. And there is no edge to you. Because every person is music..." Anton Yozhyk Leyba (Hedgehog)
Very soon on our website also LPs: Oleh Skrypka "Delight", VV "Land of Dreams", Ukrainian Heroic Song, VV "Waves of Amour", Vasyl Hontarsky "Vasya and Hobot".
Follow our news!