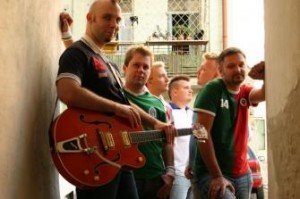 Once there was a band called MAD HEADS. In Ukraine they enjoyed the status of a rock legend for many years, with 4 studio albums, good press, frequent TV appearances and constant live touring. They have also been acknowledged internationally, as a well-known band in the psychobilly scene across the world and #1 of the genre in the whole Eastern Europe. But one day they just got boring with the same sound and the same classic trio (guitar, double bass, drums) line up…
And so, in the beginning of 2004, the new project Mad Heads XL was born. The line up was doubled with the powerful brass section (trumpet, trombone, saxophone) and the music drifted in the direction of ska with a touch of swing and Ukrainian folk, becoming something that might come out of Manu Chao, Brian Setzer and Emir Kusturica jam session.
...
Mad Heads XL also appeared abroad, with a lot of success, at Rock for People 2005 festival in Czech Republic, not to mention a club tour of Russia. In September 2005 ZYX Music released maxi-CD "Nadiya Yea" in Germany, but the main events with this song were happening in the homeland.
The song "Nadiya Yea" ("The Hope is Here") became one of the biggest Ukrainian hits of the year 2005. From now on, wherever the band was starting to sing it – the squares, the stadiums and the concert halls of any size were singing it along. The song appeared in Ukrainian National Radio Top 40 in March and stayed there for 27 weeks (the airplay was so huge, it even appeared in Europe Official Top 100 on 02-04-2005 at the respectful #50). "Nadiya Yea" also got a heavy TV airplay and become very popular. It was followed by 2 other successful video clips and radio hits in Top 40 ("Smereka" spent 7 weeks, "Pisnya Svitla" – 14 weeks in the main radio chart of the country), so the debut Mad Heads XL album was a predictable bestseller.
The album "Nadiya Yea" was released in the end of October on Comp Music/EMI, so far in Ukraine only, soon proving to be among the bestselling local releases of the year 2005.
During 2004-2005 years the band had several line-up changes. It was originally started by the members of MAD HEADS: Vadym Krasnooky – vocal, guitar; Maxym Krasnooky – spacebass, Bogdan Ocheretyany – drums; and the brass section newcomers: Maxym Kochetov – saxophone, Anton Buryko – trumpet, Volodymyr Pushkar – trombone. By the end of 2004 the band had the new trumpet player Vadym Nikitan as well as the new guy on trombone Valeriy Chesnokov. In summer of 2005, after finishing his studio work on the new album, the drummer Bogdan Ocheretyany decided to leave and was replaced by Volodymyr Zyumchenko.
information, photo from official site: www.madheads.kiev.ua
a new version of official site: http://madheads.kiev.ua/en/main