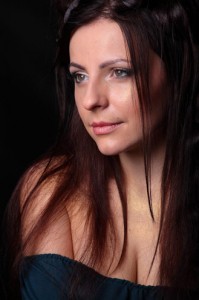 "My story is a story of a girl who found a treasure.
I do not reflect any more on how it happened, my singing annunciation. I was growing in the dreams and desires of my father and mother, who were raising me like a nestling. It was them who gave me a gift of that song universe, which I shall only now call a treasure. People and teachers, kind people like clouds showered me with water, - grow and learn. I grew up – and around me a paradise evolved, full of songs, my country thrives. I stepped up closer to see nothing but a glint in the wet eyes of my mother and father. The harvest field prickles with stubbles; it has been reaped thoroughly, so that there won't be any seeds, only a few ears of grain remained here and there. Folks plunder goods. Such is my motherland.
It hurt.
Suddenly the summer lightning shined – Nina Matviyenko, Kvitka Cisyk, Dudaryk... I am looking at them like at an evening sky, speckled with stars, and my heart goes quiet, and there is no pity, only joy remains. And my treasure is having the blood of this land running through my veins, Ukrainian blood.
This is how I live, sing and learn."
On April 2nd, 2011 Lviv held international Ukrainian romance song contest named after Kvitka Cisyk. The contest was held in the framework of Ukrainian-American project "Unforgettable Kvitka", which aims to hold concerts and evenings of memory dedicated to the famous American singer of the Ukrainian origin Kvitka Cisyk. Thirteen participants from Ukraine, Latvia, Estonia, Poland, USA, Russia, Moldova, Romania, Hungary competed to be the best performer of songs from the repertoire of Kvitka.
The Grand Prix won Oksana Mukha, performing a song from Kvitka's heritage "Teche richka nevelychka" and a song from her debut album RE:SHETO "Za richkoju, za Dunajem".
information, photo from the official site: http://www.resheto.com