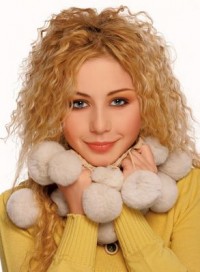 Tina Karol was born on the 25 January 1985 in the far North of Russia – in the town of Orotukan, Magadan to a family of ethnic Ukrainians. Tina's parents were engineers. The day she was born it was very cold – the temperature was about 50 degrees below zero!
After Ukraine gained its independence, Tina's family received a letter from their home country that told them about significant changes and so, in 1992, the family came back to Ukraine.
When she was 12, Tina began singing professionally.
As part of her studies at musical school, Tina had to take part in 'academic concerts', in which each student had to give a fully-fledged performance for the teachers. Usually such concerts are not very lively, because the professors prefer to evaluate the performances in silence, professionally, and reservedly. But Tina's student concerts attracted her friends and other people who had heard about her and wanted to see her perform. Tina's performances tended to end in rapturous applause, which was a bit annoying for the teachers. They didn't consider such recognition acceptable.
Now Tina Karol has an opportunity to realise her precious dream – and support talented children all over the world. She wants to help those children who are gifted but lack wealthy parents and, thus, the opportunity to improve.
Tina studied piano at music school before attending the legendary Kyiv State Glier Higher Music College.
But it was Tina's energetic nature that brought her to the world of aviation soon afterwards. Today, she studies at the Kyiv National Aviation University and is the soloist of the Armed Forces Song and Dance Ensemble.
Despite her young age, the singer has already won more than 23 international contests and festivals. But Tina is not only just a pop singer – she performs on the stage of professional theatres and takes leading roles in musicals.
Tina took part in a 17-date charitable tour of the US, taking in New York, Philadelphia, Dallas, Detroit, Houston and Milwaukee.
2005 was Tina's finest year: She participated in the Russian Charitable Ball in London, at the Royal Residence and won first prize at Novaya Volna, an international contest for young pop singers. Tina received public recognition and was named 'Woman of the Year' and 'Finding of the Year'.
More importantly, in the same year Tina Karol carried out peacemaking missions to two of the world's trouble spots – Iraq and Kosovo. The singer performed to international peace-making contingents in Baghdad and Al-Kut (Iraq), and it wasn't only Ukrainian soldiers that applauded her; American, Georgian and British troops also responded enthusiastically. In Kosovo, the Ukrainian singer was invited to Paris by French peacemakers.
Because of these performances, the Ukrainian Minister of Defence decorated the singer with a state order for peacemaking missions.
Tina opened 2006 by releasing her debut album. She represent Ukraine in the Eurovision-2006 song contest in Athens.
information, photo from official site: http://tinakarol.net/