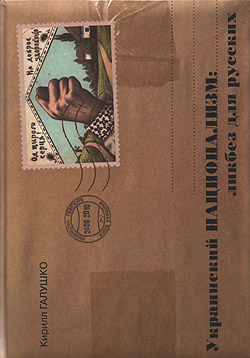 "What does the word "nationalism" mean? Where should one look for sources of this concept and what is its history? To whom is the Ukrainian people (and, thus, Ukraine) obliged for its sovereighnity? What are scenarios for development of our country in the nearest future and what is the role of "conscientious Ukrainians" - "nationalists" in that? You can find answers to these and lots of other questions in the book by the known historian Kyrylo Halushko. The publication is intended, above all, for the interested reader not indifferent to the Ukrainian and everything connected with it, who loves his/her Motherland (and not because outdoor advertising advises that, but because he/she feels so with his/her heart and soul), in the end, this publication is – for all those who read in Russian and respect the Ukrainian."
"The nation for us means all residents of this Land and all citizens of this State, not "proletariat" and not language, faith, tribe. If I write in this book about us – "we, Ukrainian nationalists" – it means: we, who aspire to the Ukrainian State, which includes all classes, languages, faiths and tribes of the Ukrainian Land." Vyacheslav Lypynsky "Letters to Bread-Growing Brothers", 1926.
In Russian.
Type of the edition: hard cover
Format: 164x234 mm
Number of pages: 632, illustrated edition
Publisher: Tempora, Kyiv
Contents:
- K chytatelju
Vyrus, yly Natsyonalyzm voobshche
1. Natsyonalyzm "kak my eho pomnym"
2. Natsyonalyzm s tochky zrenyja lyberalyzma
3. Slovo "natsyja" y dva osnovnykh eho znachenyja
4. Sushchestvujut ly natsyy v "ob'ektyvnoy real'nosty"?
5. Natsyonalyzm "voobshche". Obshchye znachenyja y smysly "natsyonalyzma"
6. "Konkretnyy" natsyonalyzm, yly Natsyonalystycheskaja ydeolohyja
7. Natsyonal'naja ydentychnost' – uslovye komfortnoy sotsyal'noy zhyzny?
8. Natsyja y natsyonalyzm kak vopros o kurytse y jaytse
Atrybutyka ukraynskoho natsyonalyzma: terrytoryja, jazyk y symvolyka
1. Ukraynskaja etnonatsyja
2. Ukraynskaja hrazhdanskaja natsyja
3. Terrytoryja
4. Jazyk
5. Symvolyka
Ukraynskoe proshloe: fundament ukraynskoho natsyonalyzma
1. Pravo davnosty
2. "Net problemy – net cheloveka", yly Ystoryja kak konkurentsyja sovremennykh myfov
3. Ukrayntsy-trypol'tsy, yly Naskol'ko ukrayntsy "tormoznutyy" narod
4. Ukrayntsy – nechystye aryytsy
5. Pereselenye narodov, yly Nakonets-to javlenye predkov
6. "Otkuda est' poshla" zemlja Rus'kaja y hde v eto vremja byly ukrayntsy?
7. "Rusy" nastojashchye y lypovye
8. Ob "Ukrayne"
9. Byly ly ukrayntsy "passyonaryjamy" y sluchalys' ly v ykh ystoryy tsykly
10. Rus' y ee narodnost'
11. O polumyfycheskykh "vostochnykh slavjanakh"
12. Kray Zalesskyy
13. "Zabytoe" sovetskymy uchebnykamy stoletye ukraynskoy ystoryy. Halytskoe prodolzhenye Rusy
14. Protokoly pravoslavnykh mudretsov: "Malaja" y "Velykaja" Rossyja
15. "Sakharovshchyna": o kompleksakh nepolnotsennosty v noveyshem yzlozhenyy rossyyskoy ystoryy
16. Hde ty, Rus'? Spektr rossyyskoy ystorycheskoy pravdy dlja doshkol'nykov
17. Osoznanye prysutstvyja na ukraynskykh zemljakh "drevneho russkoho naroda Vladymyrova kornja"
18. Ot Sahaydachnoho cherez Petra Mohylu k Khmel'nytskomu
19. Revoljutsyja Khmel'nytskoho v poyskakh pryznanyja
20. "Vossoedynenye s Rossyey": brak po raschetu s neyzvestnym
21. Poslednye pryorytety Khmel'nytskoho, yly Sobytyja kazhdyy den'
22. Razryvajas' mezhdu Moskvoy, Varshavoy y Stambulom: Ruyna
23. Ukrayna snova "hor'ko postona"
24. Ljubov' proshla: Yvan Mazepa y Petr I
25. Pervyy polytycheskyy emyhrant
26. Slyjanye y pohloshchenye: konets ukraynskoy avtonomyy
27. Pojavlenye v Severnom Prychernomor'e Juzhnoy Ukrayny
28. Ukrayna do natsyonalyzma
Sovremennyy ukraynskyy natsyonalyzm: stanovlenye
1. Rossyyskaja ymperyja: ot hosudarstva dynastycheskoho k natsyonal'nomu
2. Novoe otkrytye ukrayntsev
3. Pervyy razdel Rusy y ydeja "dvukh russkykh narodnostey"
4. "Ukraynskoho jazyka ne bylo, net y byt' ne mozhet": dyskrymynatsyja kak stymul k aktyvnosty
5. Polytyzatsyja dvyzhenyja
6. Pochemu ne udalos' okonchatel'no assymylyrovat' ukrayntsev v Rossyyskoy ymperyy?
7. Ot "tyrol'tsev vostoka" k "ukraynskomu P'emontu"
8. Mykhnovskyy – pervyy ukraynskyy natsyonalyst?
9. Professor Hrushevskyy obnaruzhyvaet drevnykh ukrayntsev
Sovremennyy ukraynskyy natsyonalyzm: popytky realyzatsyy
1. Ukraynskaja natsyonal'naja revoljutsyja 1917 hoda
2. Ukraynskaja Narodnaja Respublyka: samorealyzatsyja ukraynskykh levykh
3. "Svetleyshyy pan Hetman": nepodhotovlennaja pravaja al'ternatyva
4. Kratkyy vzlet zapadnoukraynskoy hosudarstvennosty
5. Dyrektoryja, Petljura y konets nezavysymosty
6. Ydeolohycheskyy revansh 1920-kh hodov: Vjacheslav Lypynskyy
7. Ydeolohycheskyy revansh 1920-kh hodov: Dmytro Dontsov
8. Bor'ba prodolzhaetsja: "vossoedynenye Ukrayny" y OUN
9. Banderovtsy pyshut pys'mo nemetskomu fjureru
10. Dva "ystochnyka" Ukraynskoy Povstancheskoy Armyy (UPA)
11. Voyna na dva fronta
12. Posle nemtsev: antysovetskyy front UPA
13. Ahonyja povstancheskoy bor'by
14. Ukraynyzatsyja: "bol'shevyky konstruyrujut ukraynskuju natsyju"
15. K "edynomu sovetskomu narodu"
16. Ray mertvetsov
Posle 1991: evoljutsyja y revoljutsyja
1. Bezdarnye preljudyy
2. Osmyslennyy bunt
3. "Yvan nosyt plakhtu, a Nastja – bulavu"
4. Russkye v Ukrayne
5. Hrazhdanskaja yly etnycheskaja model' natsyy?
6. Jazykovoy balans
7. USSR zhyva: vse tot zhe styl' upravlenyja
8. Chey Krym? Dolhaja ystoryja y nekye otvety
9. Ukrayna y Rossyja v kontekste "ystorycheskoy polytyky"
Budushchee Ukrayny: stsenaryy
1. Ynertsyonnyy stsenaryy: stahnatsyja y dehradatsyja
2. Pessymystycheskyy stsenaryy: kollaps vlasty y raspad strany
3. Avtorytarnyy stsenaryy: olyharkh-populyst
4. Optymystychnyy stsenaryy: evroatlantycheskaja frantazyja