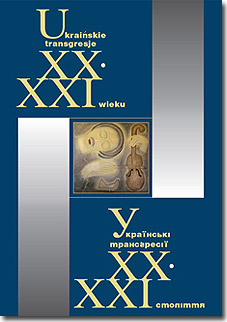 "The book offers a broad and multifaceted perspective of the Ukrainian studies centered around the events after 1991, critical and nodular for Ukraine. At the same time, it is an attempt to determine the trajectory of its further development in the nearer and distant future, for which the memory of the past and the debate over its substantial processes – recalling, remembering, and forgetting – now stand up as an urgent problem.
The first part of the collection contains works dedicated to the patriarch of the Polish Slavic Studies Professor Telesfor Pozniak. The second part offers literary, cultural, historical, and political science texts, the motto of which being "Free the future of the past? Free the past of the future?" – a quote from the book by Yuriy Andrukhovych."
Research publication.
The texts are published in the original languages​​: Ukrainian and Polish, abstracts of each text are presented in English.
Type of the edition: hard cover
Format: 170x240 mm
Number of pages: 384
Publisher: Piramida, Lviv
Contents:
- Peredmova
- Wstep
LIBER AMICORUM. Pratsi, prysvjacheni profesorovi Telesforu Poznjakovi:
- Tadeusz Klimowicz. Limonov by Limonov by Lymonov
- Siarhiej Kawalou. W cieniu polskiego mistrza: tworczosc Andrzeja Rymszy
- Jolanta Sujecka. Konceptualizacje Balkanow
- Milica Jakobiec-Semkowowa. O czym snili bohaterowie slowianskiej ludowej epiki bohaterskiej
- Wlodzimierz Mokry. Filozofia ziemi i zycia czlowieka w dziele Wasyla Stefanyka
- Bibliohrafija prats' Profesora Telesfora Poznjaka (1955-2011)
ZVIL'NYTY MAYBUTNJe VID MYNULOHO? ZVIL'NYTY MYNULE VID MAYBUTN'OHO?
LITERATURA I KUL'TURA:
- Joanna Bobula. Dekonstrukcja i rekonstrukcja. Wolodymyr Wynnyczenko a wspolczesna historiografia ukrainska (zarys problemu)
- Oleh Kotsarev, Julija Stakhivs'ka. Ukrajins'kyy poetychnyy avangard 1910-1930-kh rokiv: do pytannja pro chytanosti khudozhnikh tekstiv
- Myroslav Shkandriy. Natsionalizm ta ukrajins'ka literatura 30-kh rokiv
- Vitaliy Chernets'kyy. Transgresija i hlobalizatsija: stratehiji vkljuchennja ukrajins'koho literaturnoho dyskursu v suchasni sotsiokul'turni protsesy
- Marko Robert Stech. Symbole przemian w prozie ukrainskiej lat dziewiecdziesiatych XX wieku (na przykladzie "Perwersji" Jurija Andruchowycza)
- Tamara Hundorova. Post-Chornobyl': transgresiji katastrofizmu i suchasna ukrajins'ka kul'tura
- Jaroslav Polishchuk. Transgresiji kolektyvnoji ta indyvidual'noji pam'jati (na materiali suchasnoji ukrajins'koji romanistyky)
- Albert Nowacki. Oswoic nowa rzeczywistosc. Kierunki poszukiwan wspolczesnej literatury ukrainskiej
- Iryna Betko. Podolannja mezh ta obmezhen' bezmezhnoho v postmodernomu proekti buttja (na prykladi ukrajins'koji prozy porubizhzhja stolit' / tysjacholit')
- Marija Revakovych. Postfeminizm jak transgresija: pytannja genderu u pys'mi zhinok-avtoriv molodshoho pokolinnja v nezalezhniy Ukrajini
- Oleksandra Hrytsak. Ohljad gendernoji sytuatsiji v Ukrajini. Suchasnyy stan ta perspektyvy rozvytku al'ternatyvnoho zhinochoho rukhu
- Jadwiga Skowron. Polsko-ukrainskie stosunki literackie po 1989 roku. Rekonesans badawczy
ISTORIJa:
- Ihor Il'jushyn. Problema OUN-UPA v suchasnykh politychnykh debatakh, istoriohrafiji i suspil'niy svidomosti v Ukrajini
- Alla Tymchenko. Aktsija "Visla" v novitniy zarubizhniy ta ukrajins'kiy istoriohrafiji: dyskusiyni aspekty
- Grzegorz Motyka. Polskie spory wokol oceny stosunkow polsko-ukrainskich w latach 1939-1947
- Bohdan Halczak. Lemkowie wobec wyzwan XXI wieku
POLITYKA:
- Mykola Riabchuk. Zalezhnist' vid shljakhu: postkomunistychnyy dosvid i perspektyvy demokratyzatsiji
- Natalija Teres. Suchasna etnopolityka Ukrajiny. Novi kontseptual'ni i politychni vyklyky
- Natalja Jakovenko. Rol' initsiatyvy Skhidnoho partnerstva dlja zdiysnennja jevrointehratsiynykh namiriv Ukrajiny
- Anna Uminska-Woroniecka. Polska dyplomacja kulturalna na Ukrainie – cele, instytucje, zadania